Bill Gray '76 & Dave Brandvik '81 Form Sagamore Advisors
June 6, 2009
June 6, 2009, Greencastle, Ind. — Two DePauw University graduates -- William A. Gray Jr. '76 and David J. Brandvik '81 -- "have joined Raymond James & Associates, Inc., member New York Stock Exchange/SIPC, to form Sagamore Advisors of Raymond James & Associates," reports the Indianapolis Star. Both men hold the title of senior vice president of investments, with Gray serving as manager of the branch, located in Fishers, Indiana. (at left: Bill Gray; below right: Dave Brandvik)
"The group offers customized financial advisory and wealth management solutions for individuals, families and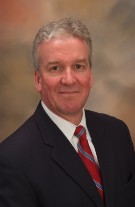 organizations, with a specialized emphasis on long-term asset management and retirement planning," notes the newspaper.
The Star points out that Gray "has held positions with Merrill Lynch and Smith Barney over the course of his 28-year financial services career. A graduate of DePauw University, where he earned a Bachelor of Arts in psychology, Gray completed his graduate studies in business at Butler University."
Brandvik "has been a fully licensed investment professional for more than 26 years, specializing in family wealth management. He holds a Bachelor of Arts from DePauw University and a Master of Business Administration from Miami University."
Read more at the newspaper's Web site.
Back