Marvin's Still Delivers
June 24, 2009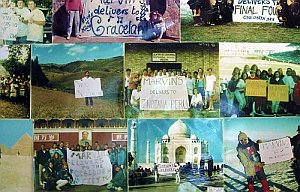 Since the 1970s, Marvin's – often called Marv's – has offered Greencastle residents and DePauw students a casual dining atmosphere and menu filled with local favorites. Famous for its GCBs (garlic cheeseburgers), pizzas and burritos, Marv's is a local tradition - one filled with memories, literally. The famous "Marvin's Delivers To..." photos in locations around the world and snapshots capturing some ridiculously and formally attired visitors have taken over the restaurant's interior, creating a patchwork wallpaper that documents swatches of DePauw history. It is the nostalgic air created by the presence of these photos and its laid-back, college town atmosphere that truly make Marvin's a DePauw landmark.
When Marvin Long (pictured right, wearing glasses) opened his first Greencastle restaurant in 1972, he did so out of desperation – he needed a job. At the time, the community had limited dining options. Having found the ideal location for a restaurant,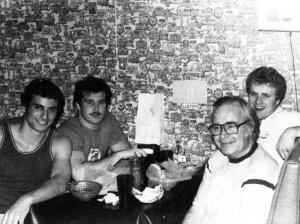 Long went to work building clientele by befriending visitors and providing a convenient delivery service. Long, who today resides in Greencastle with his wife, Kitty, loved his work and speaks fondly about the DePauw students he met and the experiences he had while owner of the popular restaurant.
"I loved the kids and had a lot of fun. At one point, I knew 1,000 kids by nicknames. I was always welcomed at University events and attended many parties on campus over the years," Long says.
After speaking with Marvin himself, the reason for the restaurant's historical and cultural significance to Greencastle and DePauw is no longer a mystery. Though the food and the atmosphere the restaurant offers attracts visitors, the welcoming, outgoing personality of the restaurant's original owner and the relationships he formed with students is what established Marvin's as a DePauw tradition and continues to attract alumni to their favorite college hangout.
Marvin Long and his legendary menu items have impacted several generations of DePauw students, and the ties run deep. When the Class of 1982 gathered to celebrate its 25th reunion two summers ago, co-chair Ken Owen recalls, "I was emceeing the dinner program at the Walden Inn, when suddenly through a side door popped Marvin. The room literally erupted with cheers, and my classmates – many of whom hadn't seen Marvin since he was manning the grill their senior year – rushed forward to hug him. He literally stopped the show. If you made a list of the most beloved figures in DePauw's 170+ year history, Marvin Long would certainly be on it," adds Owen, who is the University's executive director of media relations.
Eric A. Wolfe '04 recalls many fond memories of late-night runs to Marvin's during finals weeks and after nights of gallivanting with friends during his DePauw years. He describes the restaurant as "representative of the campus personality."
Of all the visits he made to Marv's, Wolfe's favorite dates back to a seemingly typical visit during his freshman year:
"I met my sorority informal date and our close friends for a quick bite before the party. We had the best time that night just hanging out and enjoying the food," he recalls.
Wolfe, now a Greencastle resident, recently married his aforementioned date with an on-campus ceremony in Gobin Memorial United Methodist Church and a reception on the East College Lawn. With many DePauw friends attending and taking part in the ceremony, including his best man, Stephen J. Robinson '04, he saved them a trip to Marv's by having the restaurant cater the rehearsal dinner.
"The food was awesome and was a big hit with the wedding party, family and close friends," Wolfe says. "We chose Marvin's because June [his wife, June Javens '04] and I share a love for the food, and it was perfect for our more casual wedding rehearsal dinner with all of our DePauw friends who traveled back to town and were craving a GCB. The Marvin's staff was great to work with, and they really made the event special."
According to Marvin's employee and DePauw student Erik C. Krag '12, alumni are regular visitors to the establishment.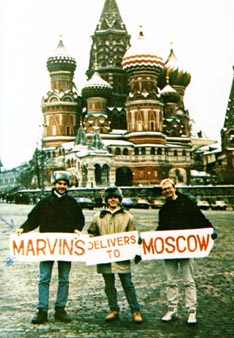 "Most of the time during the school year Marvin's is crowded and loud, but the busiest times are during Monon, Parents, Little 5 and Alumni weekends," Krag says. "The restaurant has a long history, but the history is not really that important. It is the memories that one associates with the restaurant and its food that make it special."
Meredith G. McGrady '11 agrees that the reason for Marvin's popularity largely amounts to the backdrop it creates for social gatherings of all kinds, such as the reunion of her friends after returning to campus last fall.
"I met with my friends at the beginning of the school year, and since I hadn't seen them since May, we decided to meet at Marv's to eat our first meal together. After that, we went on a tour of our new living areas," she says.
Whether you crave a garlic cheeseburger, a hint of nostalgia or a relaxed gathering place to meet with friends, Marvin's is the place to go. Though already filled with history and memories, this is one DePauw landmark that will always welcome new stories while serving as the backdrop for many others.
Read more about Marvin's in past stories, including why the above Red Square photo landed three DePauw students in a Moscow jail cell.
Back