A Different Kind of Summer Home
July 15, 2009
Many DePauw students welcome a break from rigorous coursework and late-night studying by the time summer arrives, but some students can't get enough. Daniel Kwadwo Bampoh '10, Berhanemeskel Alemu "Chuchu" Nida '10 and Abel Mehreteab Yehdego '10 are among the students who remain on campus during the summer months, taking part in research projects. The three friends are taking full advantage of DePauw's Science Research Fellows (SRF) summer programs by remaining on campus for each of their summers — this being their third. When it comes to DePauw's summer experience, Bampoh, Nida and Yehdego are pros, and they wouldn't dream of missing out. "Being on campus in the summer is terribly fun," Bampoh says, "Every single moment has been great."
Bampoh, Nida and Yehdego have been friends since arriving on campus for International Student Orientation in 2006, prior to their first-year terms, but their friendship was inevitable. The three are members of the Science Research Fellows Program, DePauw Soccer Club, and International Students Association. In addition, Nida and Yehdego are members of the Information Technology Associates Program (ITAP), Bampoh and Nida work with DePauw Residence Life and Housing, and Yehdego is operations chair for the annual Dance Marathon. Each is also involved in DePauw's Greek system — Bampoh is a member of Delta Tau Delta fraternity, and Yehdego and Nida are affiliated with Phi Delta Theta fraternity.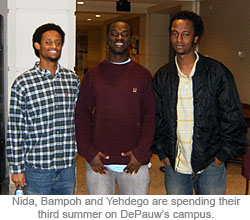 Though they have similar interests, Bampoh, Nida and Yehdego have parted ways for the summer when it comes to their research projects. Bampoh is working with Assistant Professor of Physics and Astronomy Timothy A. Stiles and students David S. Good '10 and Morgan Cheatham '12 of Dickinson College in Carlisle, PA. Their research concerns acoustic imaging with an ultimate goal of improving the research techniques for ultrasound imaging by finding and developing better tissue mimicking materials. To do so, they're improving alternative experimental methods for determining the speed, attenuation and backscatter co-efficient of reference phantom materials or tissue mimicking material through saran and silver-coated media.

"There's not a really good alternative way of doing it out there," Bampoh says, "Current methods involve complex statistical processing. We want to find an easier, more efficient way of doing this using computer and digital analysis."
Having traveled from Accra, Ghana, to attend DePauw, Bampoh shared that DePauw's ITAP and SRF Programs were influential in his ultimate college decision. He also appreciated the nature of the DePauw community.
"I didn't want to be just another face in the crowd, so DePauw was perfect. The transition was astonishingly easy, though frankly, I was expecting it to be quite difficult. My first-year roommate and the International Student Orientation made the difference for me," Bampoh says.
Bampoh plans to double major in mathematics and physics, and following graduation he plans to attend graduate school to pursue master's and doctoral degrees in a civil engineering field. He doesn't know where he'll settle geographically, however.
"I love to travel, and I would like to tour the world," he says, "When I'm old and gray, I'll return home to Accra."
Yehdego also plans to see the world after graduating from DePauw with a mathematics and biochemistry double-major and after completing a graduate degree in pharmaceutical studies. He hopes to pursue a career in pharmaceutical sales that would allow him the flexibility to travel. This summer Yehdego is working with Howard C. and Mary Ellen Black Professor of Chemistry and Biochemistry Hilary J. Eppley, Siobhan M. Deis '11, Gleason O. Wilson '10 and Lala T. Das '12 to create new complexes using ionic liquids as solvents to synthesize complex metal organic frameworks.
"Ionic liquids are the new thing this decade. Compounds coming from ionic liquids are more stable because ionic liquids are less volatile and more soluble than organic solvents," Yehdego says, "They can be used in engineering fields; for example, engineers have used the ionic liquid frameworks to be more effective in removing arsenic from water wells that was killing people in some countries."
When he's not doing research, Yehdego, a native of Addis Ababa, Ethiopia, enjoys trying new things during his summers on campus.
"This year I'm trying Rosetta Stone's Italian program, studying for the pharmacy test and practicing Falun Gong meditation," he says.

Nida is also a native of Addis Ababa, though he moved to DePauw in 2006 from a Mississippi boarding school named Pine Woods. Like Bampoh, he found DePauw's Programs of Distinction and rigorous academic atmosphere attractive during his college search.
"The academically challenging aspect of DePauw looked fun and appealed to me when I applied. Once I was accepted and decided to attend, I never regretted it," Nida says.
Nida, who is known on campus as Chuchu, is a biochemistry major. Following graduation he plans to earn a graduate degree in pharmaceutical studies with the ultimate goal of becoming an entrepreneur. This summer his research group, which consists of Assistant Professor of Biology Pascal J.E. Lafontant, Jamie A. Grivas '10, Neil T. Fitzharris '10 and Mary Ann R. Lesch '10, is examining fish heart cells in hopes of determining why the cells stop dividing after differentiation.
"This is an issue when a heart cell dies because there is no replacement for it. Instead, the cells around it grow," Nida says, "The big picture is this: If a person has a heart attack, their heart cells die, and the cells aren't replaced. Because of this, they continue to have heart attacks as their heart has more and more difficulty contracting. Research into other species' heart cells, if applied to human cells, could potentially prevent these issues."
The group is examining the heart cells of zebrafish and goldfish, two species whose heart cells continue to divide post-differentiation. They are working with the compound isoproterenol, which is very similar to adrenaline, to study its effect on the heart cells of zebrafish and goldfish.
"By the end of the summer, one of things we hope to accomplish is to see the impact of isoproterenol on goldfish heart cells," he says, "If we can figure out how these species' heart cells divide, hopefully, in the future, we can apply this knowledge to human or mammalian heart cells."
Abel, Chuchu and Daniel are only three of the many DePauw students on campus this summer who are performing scientific research that has the potential to make a world impact in the future. One thing is certain — DePauw remains a very active campus during the summer months.
Back