Game at Cleveland HS Today to Honor Memory of Allison Collet '05
July 18, 2009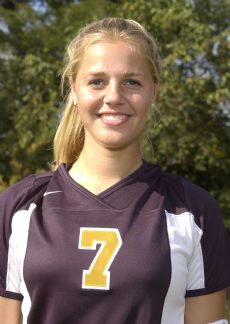 July 18, 2009, Greencastle, Ind. — "Every year, former members of the Solon Comets girls soccer team return to Solon High School to play against the current varsity squad," begins an article posted at the Web site of the Cleveland Plain Dealer. "This year's alumnae game, scheduled for 3 p.m. Saturday at the high school, will have special meaning. The game will be in honor of Allison Collet, a former Lady Comet and 2001 Solon High School graduate who died in February of brain cancer. She was 26." (at left: 2003 photo by Marilyn E. Culler)
Reporter Bob Sandrick recaps Collet's high school successes, noting that she continued her soccer career at DePauw University. "At DePauw, Allison majored in biology and Spanish. From the time she was child she wanted to be a doctor. In her sophomore year, Allison did an internship in the physics department at the University of Oregon. The department needed test patients for its experimental MRI machine. Allison volunteered. Unexpectedly, the MRI scan showed an anomaly in Allison's head. She went to a neurologist, who said she had a brain tumor. Doctors believed the tumor was benign but weren't 100 percent certain ... Doctors wanted to remove the tumor but said it could wait, so Allison went back to DePauw. That summer, in 2003, she had the tumor removed in Oregon. Then she returned to college and graduated in 2005."
The story tells of how the cancer recurred in Collet's first semester of medical school at Oregon Health and Science University in Portland.
"Allison was a key part of our program for the four years she was with us," says Dennis Castiglione, who had the idea to dedicate today's game to Allison Collet. Castiglione launched Solon High's girl's soccer program in 1992 and was its coach for 8 years. "She was well-known by the girls who played with her and those who played before and after her. She had a great reputation as a person and player."
A record 33 players will return for today's alumnae contest. Allison's parents, Tom and Jenny Collet, will be there, as well, along with her brother Jonathan, 25, and sister Madeleine, 14.
We appreciate that people would do this for her and that's why we will be at the game," Tom Collet tells the newspaper.
Access the complete text at the Plain Dealer's Web site.
Back