Scientific Breakthroughs
July 27, 2009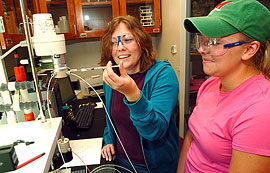 When Martha Weddell Nicholson '84 was a DePauw student, she found herself surrounded by male peers in her science courses. Although the field was traditionally male dominated, she refused to let that bother her and graduated with a degree in zoology. However, she was aware that the predominance of men in science might be a deterrent to other female students interested in studying science.

"I was never the type of person who wouldn't do something because it was male-dominated. My father strongly encouraged me to stay in science, and between his support and that of my professors, I didn't let the male dominance in science deter me," Nicholson says.
With a passion for science and many fond DePauw memories, Nicholson and her husband, Todd, decided to start the Martha Weddell Nicholson Scholarship Fund in 2001. The scholarship is one of the many programs funded through the Todd and Martha Nicholson Foundation, which the couple started in order to make gifts to charity organizations that focus on education and healthcare.
"When my husband and I were trying to figure out how to make our gift to DePauw, we thought about putting our name on a room or a building, but then we thought: that's not active," she says. "Because I was in science at DePauw and think it is important for women to be in science, we decided to create a scholarship for women who want to pursue science in the future. That way, our donation is actively working in the campus community."
This year, faculty members in DePauw's science disciplines selected two winners of the Nicholson Scholarship — Nicole C. Craker '10 and Tia M. Malcom '10. Nicholson Scholars are nominated by faculty members in the science department and must be rising senior female students who plan to pursue a career in science, medical school or other graduate degree in science; maintain a high cumulative grade point average in their science major of choice; be involved in extracurricular activities outside her academic department; and demonstrate good character.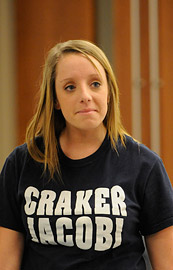 Craker (right) feels especially honored to be a recipient. "Being selected for this scholarship was one of the most exciting and meaningful things for which I've been chosen," she says, "I love studying science and think it is wonderful to encourage women to pursue the field."
As she prepares to begin her senior year, Craker looks forward to working as a peer mentor and student government president. Academically, she will wrap up her undergraduate studies as a biology major. After graduation, she hopes to attend medical school and later pursue a career as a surgeon.
While it's been only 25 years since Martha Nicholson graduated from DePauw, Craker has joined with a good number of female students and faculty members during her career at DePauw. "Some of my favorite science professors are women. By offering scholarships such as this and sponsoring groups such as Women in Science, DePauw encourages women to enter science fields," she says.
Gloria C. Townsend, professor of computer science, will begin a three-year term as coordinator of DePauw's Women in Science Program in the fall. Additionally, she is a Rieth Faculty Fellow, using her funding to support robotics research that she plans to develop into a course for the Computer Science Department. She then plans to write a paper discussing her results and her students' experiences that she will share at a European computer science education conference. An award through the Timothy H. and Sharon Williams Ubben Endowment funded five years' worth of her research — research that enabled her to publish collaborative research results in a computer science journal. (Collaboration partners included Professor of Biology Wade N. Hazel and Professor of Mathematics Richard C. Smock.) She cites funding provided by DePauw's generous donors, such as Blair A. "Andy" Rieth Jr., Timothy and Sharon Ubben, and Martha Weddell Nicholson, as a means of enhancing her own research opportunities and encouraging female students to pursue science studies.
"I am deeply grateful for the ways that the Ubbens' gift and that of Mr. Rieth have changed my academic life and the lives of my students. Our students also benefit from Martha Weddell Nicholson's generosity in providing scholarships for rising senior women who major in science," Townsend says. "DePauw University enjoys a national reputation for care and promotion of women in science. The number of female science professors at DePauw outranks that of most other small liberal arts schools, and the University funds the Women In Science (WIS) Program — these are just two examples among many."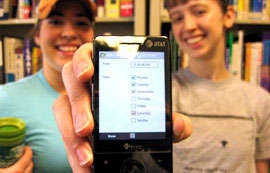 A testament to the increasing presence of women in science is the story of Ashley M. Myers '10 and Erin Donahue '09 (left, with their entry) — two of three partners in the first all-women team to reach the finals of Microsoft's Imagine Cup competition in the spring. Also, Nicole R. Stone '09 and Kathleen F. Mittendorf '10 were two of three DePauw students (joined by Alexander P. Breitinger '09) recently awarded Goldwater Scholarships, a national scholarship presented to students based on merit in science and considered one of the most prestigious science awards for undergraduate students.
Needless to say, the presence of women in science is increasing and will continue to do so for years to come, thanks to the academic, emotional and financial support provided by DePauw faculty, staff, alumni and donors.
"We appreciate the support from DePauw's donors who fund women in science," Townsend says, "This year's winners of the Weddell Nicholson Scholarship, Tia Malcom and Nikki Craker, along with other women in our program, demonstrate achievement as women in a field typically dominated by men and in our programs that emphasize the principles of encouragement, mentoring and networking."
Back