John R. Herrick '10
July 31, 2009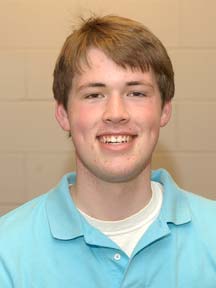 When John R. Herrick '10 was six years old, his mother grounded him from watching the 1994 NBA finals between the New York Knicks and Houston Rockets. Though this form of punishment may seem light for the average six-year-old Indiana native, it certainly impacted Herrick, already an avid sports fan with aspirations of pursuing a career in sports broadcasting. Today, 16 years later, Herrick is still chasing his dream. As he begins his senior year at DePauw as a communication major and sports director for DePauw's WGRE radio station, he does so as one of the top 20 collegiate sports broadcasters in the country, an award presented by the Sportscasters Talent Agency of America.
"There are so many great collegiate broadcasters from colleges such as Syracuse, Missouri and Fordham, and to be mentioned in the same breath as those students is truly a blessing," Herrick says. "I found out that one of the judges on the selection panel was Indiana Pacers play-by-play announcer Mark Boyle. He was one of my idols growing up when I listened to Pacer games, and he is without a doubt the best play-by-play guy in the NBA. He's had a profound influence on me that words can't even describe. When he decided to put me in the top 20, I was overcome with joy and humbled at the same time. Here's a guy I grew up listening to and emulating, and now he's critiquing me? That's a moment I'll never forget and always appreciate."
His inclusion in the top 20 collegiate sports broadcasters list is by no means Herrick's first bit of recognition for broadcasting. He has been recognized by the Society of Professional Journalists and Associated Press as well, receiving awards such as Best Radio Documentary and Best Radio Newscast. Herrick considers the latter award one of his most valued accomplishments.
"It meant a lot to me because I proved to myself that I am not one-dimensional. I pay attention to the news and don't allow myself to become overly consumed with sports," he says.
When Herrick was going through the college selection process a few years ago, he thought DePauw had everything - it was close to his hometown, Greenwood, Ind.; he loved the campus and found the faculty-student ratio appealing.
"I didn't want to go to a big school and just be a number," he says, "I wanted to get devoted attention from faculty and staff who cared about my development. That has been the case, and there have been many great professors who have taken time to help guide me through my college experience."
Another selling point for him was DePauw's radio station, WGRE 91.5 FM, which in the fall will kick off its 61st year on the air. It will also be Herrick's second year as the station's sports director. Along with organizing a staff of sports writers and broadcasters, Herrick is responsible for providing the campus and local communities with professional broadcasts of local sporting events - both DePauw athletics and Putnam County sports. He looks forward to making a few changes and additions to WGRE's sports programming when the station returns to the airwaves. Instead of hosting one sports talk show - "The Sports Reporters," which airs on Monday nights - Herrick hopes to incorporate three shows into the schedule.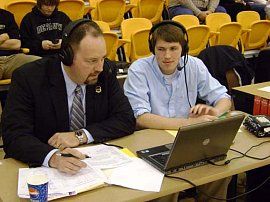 "My work will be even more intensive this year when we have three shows. One will be a national sports talk show, another will be a DePauw sports talk show and the other will cover Putnam County sports," he says. "All of these shows are anchored and produced by very talented people around me who put forth a lot of time and effort as well. Without them none of the shows would be possible. My job is to oversee those shows and oversee daily sports programming and provide feedback to the sports department members. It's very time consuming, but I love every minute of it."
Herrick considers the most rewarding aspect of his job to be hearing comments from listeners - both on campus and beyond, as well as listeners from other universities.
"One time, an Oglethorpe fan came up to me and said 'I listened to that DePauw game against us the other night, and I couldn't even tell that you were a DePauw broadcaster. You did a great job being objective, and I'd listen to you over our own radio people,'" he recalls. "I may not get paid to do this now, but compliments and encouragement like that help keep me going and motivated to pursue my dreams."
In addition to hands-on career preparation and experience, Herrick says that working at WGRE has provided him with many valuable connections and opportunities beyond DePauw.
"WGRE has opened up a world of opportunities for me. I have had two internships, one in radio and the other in television. I interned at ESPN radio 1070 The Fan in Indianapolis last summer, and I am currently interning at the NBC affiliate, WTHR Channel 13. I have had the opportunity to work with great people such as Rich Nye and Dave Calabro in the sports department at Channel 13, and they've taught me many things," he says.
His work at WTHR this summer provided Herrick with the opportunity to interview Dale Earnhardt Jr. at the Indianapolis Motor Speedway, one of his most memorable interviews. "Rich Nye called me and said 'John, I can't make it out to the Speedway in time, so guess what? You're up. I need you to interview Dale Earnhardt.' The other full-time sports anchors couldn't believe that Rich had placed enough trust in me to conduct the interview, but he took a chance, and I delivered," Herrick says.
As a freshman, Herrick experienced his second most memorable broadcast - calling the DePauw women's NCAA Division III National Championship basketball game.
"I was so lucky to be able to see that as only a freshman and experience that atmosphere and what it meant for the school. It couldn't have happened to a better group of people. It was incredible," he says.
Throughout his DePauw and WGRE journeys, Herrick says he has been most influenced by Professor of Communication and Theatre Jeffrey M. McCall, who also is WGRE adviser.
"He's one of the most selfless human beings I have ever met. He cares so much about his students and their well-being that he puts aside his own personal agenda to help others. I always enjoy going into his office to chat. It doesn't have to be serious, just about how things are going," Herrick says. "He pushes me and makes my workload steep sometimes, but he does it because he cares. He's accessible and full of knowledge that he shares with others so they can learn from him. If it wasn't for him, I don't even want to know where I would stand right now."
With his senior year fast approaching, Herrick is looking forward to his return to the airwaves at WGRE and to further preparing for a career in sports broadcasting. After graduation, he claims his plans lie partly in the hands of Jon Chelesnik, CEO of the Sportscasters Talent Agency of America (STAA).
"He helps sportscasters market themselves with their demos and résumés and obtain jobs in the industry. I'm very flexible, and I really enjoy both radio and television. There appear to be more television sports anchor jobs available, so I might try that field and see where it gets me," Herrick says, "but my long-term goal is to call a Super Bowl, Final Four, NBA Finals or World Series."
Back