Sociology Illustrated
August 3, 2009
As comic books have matured, so, too, have millions of readers. Some entered careers as writers and directors, adapting their favorite comic stories to different media. Kelley J. Hall, associate dean of academic affairs and associate professor of sociology at DePauw, adapted them to the classroom. Rather than focus on the medium itself – only one of her courses, Comics and American Society, has done so – she uses comics to teach sociological principles.
"Whereas an English professor would look at a comic's narrative structure, or an art professor might look at the perspectives of its drawings, I look at themes of identity within comics," Hall explains.
Her interest in comic books began when she was 13 years old, while sharing them with her brother during long car trips. Her hobby continued as she matured, even if it wasn't especially popular among her peers. "When I would go to Lansing with friends," she says, "I would have to confess that I read comics because I always visited the comic shop there." It wasn't until graduate school that Hall looked at comic books as an object of study.
Hall recalls, "At that time in comic books, the trend was for the young, hot artists to break out and start their own comic books. They drew scantily clad women and huge, muscular men – lots of stereotypical imagery. I decided it would be interesting to look at how those comics depicted women and what that reflected about our society."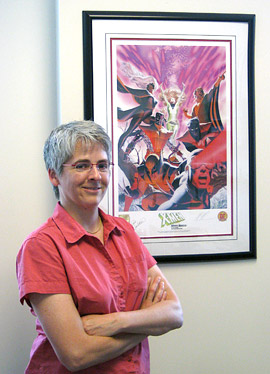 When she arrived at DePauw, Hall began using the X-Men comics to examine prejudice and violence used against a group of people perceived to be different. Following research into real-life discriminatory policies of the past, Hall's students would apply the readings by role-playing a hearing about a piece of legislation that would require mutants – X-Men's protagonists – to register themselves with the government.
"Giving students this make-believe, pretend social stratification gets them talking about inequalities and making connections to their own experiences without leaping right into the really difficult topics of race or sexual orientation," Hall says. "When we start to talk about the tough issues, I hope they will be more comfortable talking with each other, and will have built rapport and can speak openly."
The X-Men comic books are suitable material for a course on sociology. Since the series' introduction in the 1960s, discrimination has become its main theme. Plot points in the comics have mirrored many contemporary issues, such as Jim Crow laws during the series' beginnings and HIV/AIDS in the 1980s. "I can't say for certain that the writers were doing this specifically, but sociologically speaking, it's not hard to apply X-Men to real events," Hall says.
Hall's comic book readings – and the comic format itself – aren't limited to struggling superheroes. Her upcoming first-year seminar, Introduction to Women's Studies, will use Marjane Satrapi's Persepolis, an autobiographical account of growing up during and after Iran's 1979 Revolution. Hall has also used Fun Home: A Tragicomic by Alison Bechdel, who visited DePauw in spring 2009. Bechdel's comic revisits her relationship with her father, a closeted gay man who committed suicide. Because of its graphical presentation, Hall believes the story is especially effective in communicating the author's experience.
"When you're reading Fun Home, you read and see Bechdel's memories of her father, his meticulous restoration of their home and maintenance of the secrecy surrounding his sexuality," Hall says. "She creates an incredibly detailed picture and you really understand him, at least through her eyes."
These non-fiction and historical comic books have both broadened the medium's appeal and garnered important praise. Time named Bechdel's Fun Home the best non-fiction book of 2006, and New Yorker cover artist Art Spiegelman, who visited DePauw in 2001, received a Pulitzer Prize for his holocaust comic Maus.
Critical respect for comic books has made their presence in academia more visible, and no more so than in Hall's office. Superhero figurines stand guard over sociological texts on her shelves, along with comic posters and magnets that cover her walls and filing cabinets. More than simple reminders of her hobby and academic interest, the decorations have played a role in Hall's duties as associate dean of academic affairs.
"There was a time when I thought, I need to take down all these comics and be a professor and an administrator," Hall says. "However, when I deal with students with academic difficulties, the comic book references seem to click. They give us something to talk about. Once I figured that out, it didn't take very long to decide to keep them up."
Back