Experienced and Talented Football Tigers Seek More in 2009
August 7, 2009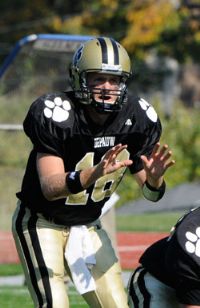 August 7, 2009, Greencastle, Ind. — As the Tigers enter the 2009 season they do so with a sense of purpose.
A season-ending, 36-14 Monon Bell win at Wabash gave DePauw a second straight 8-2 season and nearly propelled the Tigers into NCAA Division III postseason play for the first time in school history.
DePauw, ranked 19th by USA Today Sports Weekly and 25th by D3football.com, returns 41 lettermen including 17 starters from that team as it prepares for its 122nd intercollegiate gridiron season. The 125 Tiger players report to campus on Monday, August 17 with the first practice scheduled for the next day.
With the return of talented veterans and another solid recruiting class, the Tigers have their sights set on the Southern Collegiate Athletic Conference title.
"If you combine the experience and talent level returning, the strength of our incoming class with the momentum from last year, you have a uniquely exciting atmosphere for the upcoming season," head coach Matt Walker said.
Walker, who took over just three months prior to the start of the 2006 season, has the program's second-best record for the first three years of a coaching career at 22-8.

OFFENSE
Seven of the returning starters are from an offense which, last year, ranked 16th in the nation in passing yards per game and passing efficiency, 42nd in scoring offense and 47th in total offense.
Senior quarterback Spud Dick (pictured above) returns to direct the offense after starting 29 straight games over his first three years. Dick ranked 15th in Division III passing efficiency last year and 18th in total offense. The school's career leader in passing yardage, Dick completed over 67 percent of his passes for 2,896 yards and 25 touchdowns in 2008 and earned second team all-SCAC honors. Backing him up for the second straight year is junior Michael Engle.
DePauw returns one of the most talented groups of receivers in recent history led by senior Bryan Mulligan and juniors Alex Koors and Brayden Dahlstrom.
Mulligan, a three-time all-SCAC honoree including second team honors last year, grabbed a team-high 56 catches last year for 526 yards and four touchdowns.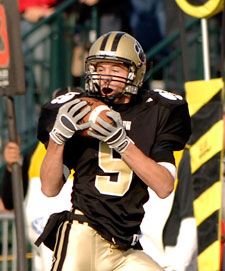 Koors (pictured right) was a third team D3football.com all-region choice last year after hauling in 55 catches for a team-best 926 yards and a 16.8-yard average. The first team all-SCAC performer also paced the squad with 926 receiving yards which was the fourth-highest single-season total in school history. He also led the team with 10 touchdowns. His 220 receiving yards against Centre equaled the second-best single-game effort in program history.
Dahlstrom made the move from quarterback last year and was an SCAC honorable mention choice after hauling in 34 passes for 394 yards.
Among those adding depth are seniors Brad Paus and Nick Etzcorn as well as juniors Alex Barden, Cole Brady, Colin Doran and Nathan Evans.
In his rookie campaign, Jon Ellis led the Tigers with 530 rushing yards in seven games and totaled at least 100 yards in three different games including the Monon Bell win. Ellis earned all-SCAC honorable mention in his first year.
Derrick Karazsia was a starter for most of the season and finished with 249 ground yards including 95 against Colorado College. Chris Collins missed most of the season due to injury but totaled 44 yards in the season opener. Colin Hertel and Jeremiah Morgan also look to battle for time.
Mitchell Willsey, who saw some time at running back in 2008, looks to be the top candidate at fullback. Junior Luis Paulino and sophomore Anthony Meek should provide backup.
The Tigers return a pair of starters to the offensive line after graduating two three-year starters and a two-year starter.
Senior David Joeckel is back for his third year at right guard, while sophomore Lewis Brown returns after starting nine games at left guard in last year's rookie campaign.
Sophomore Mitch Turnbow looks to be the leading candidate at center, while junior Andrew Bryson, who made three starts last year, looks to start as well.
Others who could see action include juniors Mark Kreuzman, Sean Wooding and Sean DePoy and sophomore Shea Noonan.
Junior Mark Branigan returns for his second year as a starter at tight end after averaging 16.6 yards per catch last year on five receptions. Junior Casey Luther will add depth.
"The thing that pops out on offense is the return of so many playmakers at the skill positions," Walker said.
"Obviously the loss to graduation of three players on the offensive line could be a concern, but we're excited about the talent level of the young players. It'll be exciting to watch Spud with another year under his belt. He improves every time he steps out on the field."

DEFENSE
Defensively, DePauw returns eight starters from a unit that allowed just three touchdowns over last year's final two games.
Starters return at three of the four defensive line positions including senior end Alex Fitch and junior tackles Tyler Doane and Ryan Huffman. All three earned second team all-SCAC honors last year.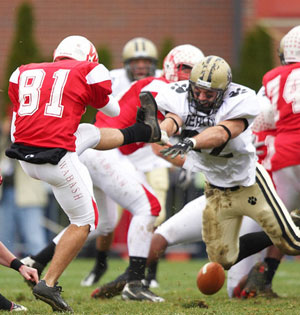 Fitch (pictured left), a second team ESPN The Magazine Academic All-America selection, was a second team all-SCAC choice and led the Tigers with six blocked kicks. Fitch also recorded 23 tackles with 3.0 for loss.
Doane was third on the squad with 4.5 tackles for loss and was in on 24 stops, while Huffman totaled 26 tackles including 2.5 for loss. Sophomore Michael Fultz looks to be the top candidate at the other end spot.
Adding depth on the line are seniors Paul Cartwright and Drew Schneider, juniors James Foglton, Steve Wojanis and Ryan Woodard and sophomores Eric Vogel, Graham Wilkerson and transfer Kalen Borre.
Two of the three starting linebackers from last year return in juniors Ryan Preuss and Kyle Sherer. Preuss led the team in tackles last year with 68 and shared the squad's lead with 5.5 tackles for loss. Sherer was third on the team with 59 tackles. Joshua Sturek looks to be the top contender at the middle linebacker spot.
Adding depth are senior Robert Abbott, juniors Alex Bailey and Mikey Hemkens as well as sophomores Matt Johnson, Sebastian Scott, Michael Woodsmall and transfter Christian Siania.
Three of four starters return to the defensive backfield including junior P.J. Gbur and sophomore Steve Valdiserri at the corners and senior Stacy Crawford at a safety.
Valdiserri (pictured right) was a second team all-SCAC selection in his rookie year and led the Tigers with four interceptions. Crawford added 32 tackles and seven pass breakups, while Gbur intercepted two passes including one for a touchdown at Wabash.
Senior Eddie Schmidt, junior Nijeil Anthony and sophomore Scott Hunt will battle for corner spots. Those adding depth and competing at safety include juniors Adam Hawkins, Jonathan Lambert and Thomas Wrona and sophomore Ben Brandstatter.
"We're as athletic on defense as we've ever been," said Walker.
"Our defense improved tremendously over the course of last year and was a force near the end of the season. Most of those guys are back and, just like on offense, we have a lot of our playmakers back."

SPECIAL TEAMS
Senior Jordan Havercamp will handle the placekicking and kickoff duties for the second straight year after earning all-SCAC second team honors last year. With 70 points last year, Havercamp became the first kicker to lead the Tigers in scoring since 1994. His 64 points scored via kicks ranks second in a season all-time in school history.
Junior punter Adam Hill enters his third year as a starter and has averaged just under 37 yards per kick in his career.

SCHEDULE
DePauw opens the season with a non-conference game at Anderson before jumping into SCAC play the next week at home against Centre. The Tigers' next two home games are against the two SCAC champions, Millsaps and Trinity.
The 2009 regular season concludes with the 116th meeting against Wabash College which will air live and nationally on HDNet for the fourth straight year.
The game also marks the 78th battle for the Monon Bell. The all-time series is tied at 53-53-9, while DePauw holds a 37-34-6 advantage in games contested for the Monon Bell.

Back