A New Year for Hartman House
September 7, 2009
DePauw University's reputation for graduating service-oriented, community-conscious students is largely attributed to the many staff members and student volunteers whose efforts are focused on the creation, development and execution of community service and social justice projects.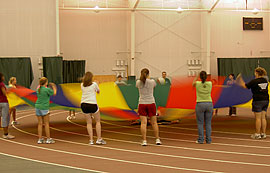 The Grover L. Hartman House for Civic Education was established in the fall of 1995 in order to create a central location for DePauw's volunteer programs, leadership development and civic education. The structure was named in honor of the illustrious DePauw alumnus Grover L. Hartman '35, a man who dedicated his life to service and social activism. Since its establishment, Hartman House has developed into the hub of DePauw's service organizations. With a mission to educate students to be engaged citizens, the Hartman House is home to DePauw's branch of the Bonner Scholar Program and the Civic Intern Program, which encompasses Winter Term in Service (WTIS) and the many Community Outreach programs. The Compton Center for Peace and Justice is also housed within the Hartman House.
Jessica Weasner serves as the assistant director of the Hartman House and considers the wide variety of projects and programs offered to be the most unique and valuable quality of the Hartman House.
"We have a variety of programs that speak to the different interests of students," she says, "but it's important to note that we're not the only avenue for students to get involved in community service. We're one resource, and I think a good starting point for a lot of students."
As a way to introduce new students to DePauw's community service opportunities, the Hartman House organizes an annual Service Plunge event that allows incoming students to volunteer at one of many pre-arranged sites. This year, students had the opportunity to choose from a list of volunteer locations, including the DePauw Nature Park, Big Walnut Sports Park, Asbury Towers Retirement Home and the Putnam County Humane Society.
"Service Plunge is a great program for first-year students who are new to the community," Weasner says. "It gets them out and about in Greencastle and involved in something positive without requiring them to make a huge time commitment, but it will hopefully encourage them to stay involved."
Bonner Scholar Staci M. Orr '11 worked as a Civic Intern at the Hartman House this summer and is looking forward to working with the first year students this year.
"Communicating with the first-year students and seeing their excitement about community service and the Bonner Scholar program is very rewarding," Orr says.
DePauw is one of 27 colleges and universities that offers the Bonner Scholar Program, a scholarship program which allows selected students to be actively involved in community service activities during both the school year and summer months. The Bonner Foundation, which began in 1990, provides four-year community service scholarships to students who have high financial need and a commitment to service.
Orr has thoroughly enjoyed her experiences with the Bonner Scholar organization, especially her current position as the media director for DePauw's Winter Term in Service program.
"I've enjoyed all the projects that I've done, but getting to learn more about the organizations we work with for Winter Term in Service has been one of my favorite," she says. "The trips we're going to take this Winter Term are all projects we've worked on before, and I'm excited to contribute to them this year."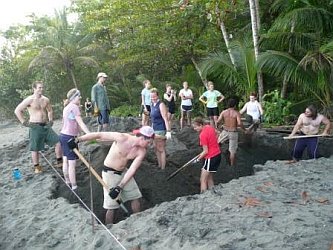 DePauw's Winter Term in Service began in 1973 and is one of the oldest and most popular experiential learning opportunities on campus. Each year, approximately 100 DePauw students, faculty and staff members travel to sites around the globe, immersing themselves in different cultures while providing assistance with various service projects. Winter Term trips are planned in January 2010 to San Diego and El Salvador where students will work with two pre-existing community organizations. Orr will travel to San Diego to work with the organization Stand Up for Kids; along with her peers, she will work with homeless teenagers, helping to provide information about resources available to them. The group will also paint, clean and assist with renovations to the Stand Up for Kids center.
"I am so excited because I think we will actually be able to get a better sense of the reality regarding homelessness, especially in regard to youth," she says.
Senior Daryl Mowrey serves as the President of Civic Fellows, a four-year, service-based leadership program that, according to the organization Web site, "cultivates a lifelong commitment to leadership on civic issues."
"It tries to teach members about leadership and ways to use that leadership in their community, to train people to be good citizens in any city, town, etc. where they might find themselves one day," Mowrey says. "To accomplish this goal, all of our events are organized and led by Civic Fellows students."
Mowrey explained that last year's Civic Fellows coordinated many different projects, including Rake and Run, an event during which students spent a Saturday raking lawns for individuals who weren't able to do so themselves. The group also spent many Saturday afternoons helping community members with household projects, such as re-siding an elderly woman's home, as part of the Re-Building Together Project. Additionally, the Civic Fellows has prepared meals for the A-Way Home Shelter and organizes a program in conjunction with Sodexho so that students can donate excess meal plan funds at the end of second semester, which are used to purchase canned goods for the Putnam County Emergency Food Pantry.
Mowrey is particularly excited about a new program the Civic Fellows may be organizing in the future.
"We will be responsible for the Hunger Banquet, an event designed to show students the effects of hunger throughout the world," he says. "The goal is to raise awareness of the need for food around the world to the student body."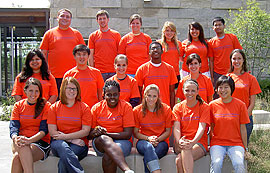 In addition to Winter Term in Service and the Bonner Scholar and Civic Fellows programs, the Hartman House also organizes the Community Outreach programs DePauw Community Service (DCS) (student coordinators pictured right) and America Reads/America Counts. Senior Braca Benizry will be the DCS student director this year, and she has previously been instrumental in the Senior Friend Program, which is one of the many programs offered through DCS. Students involved with the Senior Friend program are partnered with a resident at Asbury Towers Retirement Center and are given the opportunity to visit one-on-one with the resident.
America Reads/America Counts is a partnership-based program between DePauw students and elementary school students in grades K-8 in the Greencastle school corporation. The mission of America Reads/America Counts "is to provide a high-quality mentoring program that enriches learning opportunities for both college and elementary school students." Math and reading coaches are partnered with one student and are responsible for working with that student in 45-minute sessions at least twice a week during the academic year.
Now is the ideal time for students to get involved in a service organization. Anyone interested is encouraged to visit the Hartman House at 500 E. Seminary St. or online.
Back