Let the Celebration Begin
September 24, 2009
The DePauw School of Music is celebrating its 125th anniversary season by honoring students, faculty members and alumni who have been a part of its long, remarkable history.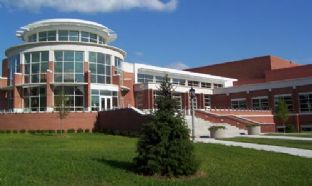 The yearlong celebration begins with a spectacular concert scheduled on Saturday, Oct. 3., during Old Gold Weekend. The Prism Concert will showcase students and faculty, according to Orcenith G. Smith, professor of music.

"The concert will tell a story – connecting our history to our future," Smith says. "We chose 'prism' because a prism allows light that passes through to illuminate its colors, reflecting a variety of rich content."

Zakary D. Phillips '11, a music performance and philosophy double major, plays the violin in the University Symphony Orchestra and is performing in the concert. "I'm not going to give away any surprises, but the concert is going to be unique – massive orchestrations with lots of sound," Phillips says. "The combination of the orchestra, organ and choir, for example, is one you don't often hear. It shows interesting things that composers have done in the past that don't always get recognized," Phillips says.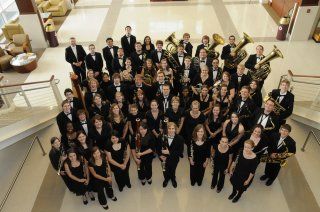 The concert begins at 7:30 p.m. in Kresge Auditorium in the Judson and Joyce Green Center for Performing Arts and will include a vignette of personal reflection, as told by Maureen M. Carkeek '48, adjunct professor of music, who has the longest career in the School of Music. She began her 58th year of teaching this year.

In addition, there will be performances by the University Symphony Orchestra, University Band, University Chorus, Chamber Singers, Jazz Ensemble and Percussion Ensemble. The concert program includes an exciting array of faculty performances as well.

Scott C. Spiegelberg, associate professor of music, is coordinating the events during the yearlong celebration. "There are three pillars or main events that we have determined to use as a means to celebrate the School of Music this year," Spiegelberg says. "The Prism Concert is the first of these. The second pillar consists of two panel discussions. The first panel, led by Professor of Music Craig T. Pare and four DePauw alumni, focuses on music education and is scheduled on Oct. 29. The second panel discussion will take place in the spring and will be led by Professor Smith with a focus on the arts industry and the music business. The third pillar that will culminate the celebration will be an alumni concert during Alumni Reunion Weekend, June 9-13, 2010."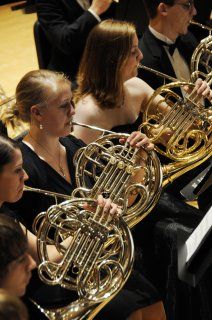 While there are many special events planned to commemorate the School of Music's 125 years of achievements, it has also been a time for reflection.

"What has remained the same throughout the years in the School of Music is the emphasis on performance," says Cassel Grubb, former School of Music director and professor emeritus of music. "Regardless of a student's major, performance is the center of his or her studies. They not only study an instrument but also participate in ensembles."

Smith agrees. "Performance is the main vehicle of discovery," he says. "That hasn't changed. Incoming music majors are predisposed to know what they are here to study. At DePauw, they have private instruction each week with faculty members. Students uncover what they can do and who they can be," Smith says. "It's a physical and mental process of discovery."

"This year has been a transformation for me in terms of my music major," Phillips says. "I've gone from just being a part of the orchestra as a part of my major, to this is what I love to do. I have been able to relate the music that I'm playing to what's happening in my life," Phillips says. "Professor Smith has taught me that. He knows the music. He is very clear and concise in what he tells us and conveys that as he conducts, too."

"Music education was a popular field in the 1950s and '60s," Grubb says. "Ninety percent of the students majored in music education because the field of employment was so great." "Music education and diverse fields are as important today," added Smith. "The breakdown of School of Music students today is normally 25 percent performance, 25 percent music education, and 50 percent double major in music and another discipline," according to Smith. "Out of this year's incoming class of 48 students, 20 of them are music education majors."

"DePauw is unique for a school our size. We have an extraordinary faculty and," says Smith, "the University has provided us with great support. Thanks to people such as Cassel Grubb and his faculty colleagues who were instrumental in the construction of a new $8 million facility in 1976," says Smith, "there was a change in the dynamic of what the DePauw School of Music could be. Now, we have a new $29 million facility from Judson and Joyce Green that has provided us an extraordinary energy for the future."

Despite the structural changes to the buildings with the additions of innovative facilities, the focus on development of the student remains untouched. "Our mission toward evolving the student through personal study, technique, theoretical and historical perspective hasn't changed," Smith says.

Grubb credits DePauw composer, Donald H. White for helping establish the first contemporary music festival at DePauw in 1962 - which was very innovative at the time and brought to campus composers of high stature, such as Aaron Copland, Vincent Persichetti and Howard Hanson. "Amy Lynn Barber reinvigorated the focus with our Music of the 21st Century, an annual residency that brings internationally renowned contemporary composers to campus for five days," Smith says. This year, Joan Tower will be the composer in residence from Feb. 17- 21. The festival is underwritten by Robert A. and Margaret A. Schmidt, '69, '69.

Another addition to the School of Music Program was the opportunity for students in the School of Music to study abroad. "Before 1978 music students couldn't go abroad. Students couldn't take time out of their studies to do so," Grubb says. "The opportunity to travel abroad was energized by the creation of the Vienna Program," Smith says. "In 1978 Grubb established an association with Austro-American Institute to create our Vienna Music Program. Now, junior or senior music performance majors can live and study in Vienna, one of the world's musical capitals," Smith says.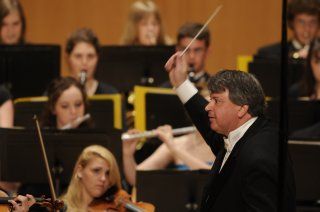 There have been many changes in the curriculum over the years. "When I arrived in 1948, church music had a strong emphasis, and there was a large organ program enrollment. In 1911 Van Denman Thompson was hired as an organ and composition teacher," Grubb says. "He had an international reputation and was highly regarded -as was Arthur Carkeek." Carkeek, a 1948 DePauw graduate and former professor emeritus of organ and music theory, joined the faculty in 1950. "Six of his organ students later received Fulbright scholarships," Grubb says. One of Carkeek's students was Margaret McElwain Kemper '60. Kemper will be honored on campus during Old Gold Weekend.

Jennifer C. Soster '88, executive director of alumni relations, says, "On Friday, Oct. 2, the Alumni Association hosts the Distinguished Alumni Achievement Awards dinner. It just so happens that three of the seven alumni being recognized are musicians." Click here for the Old Gold 2009 Weekend schedule.

"Margaret McElwain Kemper '60 will receive the Distinguished Alumni Achievement Award for the Creative and Performing Arts in recognition of her achievements in the fields of music. Kemper, an associate professor of organ at Northwestern University, received a Bachelor of Music degree from DePauw in organ performance," Soster says. "At DePauw she studied with Arthur Carkeek. Upon graduation, she was awarded a Fulbright grant to study organ with André Marchal in Paris."

"James B. Stewart, Jr. '73 will receive the Old Gold Goblet award, which recognizes eminence in life's work and service to alma mater. He serves on the DePauw Board of Trustees and is past president of the board," Soster says. "Stewart is a talented pianist and performs recitals regularly at New York City's Steinway Hall."

"Jason A. Asbury '95 is receiving the Young Alumni Award, which is given to an alumnus or alumna under the age of 40, who has demonstrated leadership in career and civic associations and has shown strong loyalty to DePauw University. Asbury, a Greencastle native, is a first-generation college student and graduated with a Bachelor of Music degree in organ performance. Asbury is an active volunteer for DePauw," Soster says.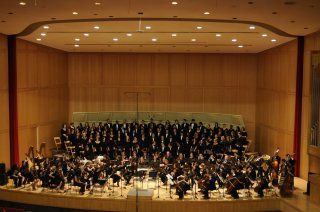 "Having DePauw's School of Music here brings gifted students and faculty members to Greencastle, and they share their significant talents with us all," Greencastle Mayor Sue Murray says. "Few communities can boast the kind of performance opportunities that we are welcomed to. The school also offers our young and aspiring local musicians the chance to learn from some of the best in their field. Our City's quality of life has indeed been enriched during the 125 years since the School of Music started."

Erik C. Krag '12, a music performance and computer science double major, is also a Greencastle native. He recalls that one of his favorite experiences growing up with DePauw as his neighbor was going to see concerts at the School of Music. "Now that I'm a part of it and the 125th-year celebration, it's really interesting to see how far the School of Music has come and to look back at the roots of the program," he says. Krag will perform in the Prism Concert as a member of the University Chorus. He is looking forward to it and, like most performers, is hoping for a big crowd.
Back