Taylor M. Cantril '11
September 25, 2009
Since arriving on campus two years ago, junior Taylor M. Cantril has assisted in drafting legislation for the Indiana General Assembly, traveled to Bonn, Germany, for a United Nations climate conference and helped to compile the University's first carbon footprint. Some students enter college knowing exactly what they're going to do. Cantril wasn't one of them.
Nearing the end of his high school career, Cantril took a family vacation with his mother and visited half a dozen colleges along the way. DePauw was on their list because of an offhand suggestion of a family friend, but the visit ended up being his favorite.
"My tour of DePauw was the most personal experience of any of my campus visits," Cantril says. I ended up coming back for another visit and spoke with the cross country coach and Honor Scholar program. It was exciting to think that I could do both. The irony is that now I'm doing neither."
Cantril's priorities changed during his freshman year. While seeking ways to get recycling bins in each dorm room—"You had to walk down to the end of the hall to recycle something, so most people just used their waste bin instead," Cantril explains—he was introduced to Assistant Professor of Philosophy Jen Everett. Later in the school year, Everett invited him to join Focus the Nation, a climate change awareness event being held on campuses across the country. He came to the first meeting not knowing much about environmental issues his initial interest quickly turned into outright enthusiasm, then expertise.
"It was obvious that he absolutely needed to play a leadership role," Everett says. "He was great at bringing order out of the chaos of a complex planning process, and just inspired everyone with his own energy, competence, and sense of humor. Focus the Nation was a big success thanks in large part to Taylor and other fabulous student organizers, and I know he took a lot away from the experience—not only a sense of his leadership abilities, but also an understanding of the interdisciplinary nature of the climate crisis."
With Everett, Professor of Sociology and Anthropology Tom Hall and Professor of Biology Jim Benedix advising him, Cantril designed an independent and interdisciplinary major he named Ecology and Society.
In 2008 Cantril and other Focus the Nation participants went on to join the DePauw Environmental Policy Project (DEPP). DEPP, named 2008 Environmental Organization of the Year by the Hoosier Environmental Council, was formed to provide experiential learning in the public policy process and to provide Indiana political leaders with sound, nonpartisan research on environmental issues. With Michael Lutz '09, Cantril studied geothermal heating and cooling systems as an alternative, money-saving solution for use in Indiana schools. They interviewed school corporation maintenance directors from across the state to learn about existing geothermal systems, and aggregated the data to show short payback periods and significant long-term energy and cost savings.
Cantril and Lutz shared their research with State Representative Nancy Michael who used their findings to draft a revolving loan fund. Schools could use the loan to pay for geothermal installations and could pay the loan back with money they saved on utility costs. "That's where we as students were most effective: when we could provide legislators with information that hadn't already been collected by the government or nonprofit organizations," Cantril says. The resulting bill, HB 1669, was sent the House and Senate finance and energy committees.
Cantril and Lutz presented their research to the energy committees during the bill hearings. Their testimony before the finance committees was much different. "The finance committee members all sat in big chairs behind tall wooden panels, and it's pretty clear who had the authority in the room," Cantril says. "We were waiting there sweating it out, but both times it was voted on and passed without any testimony."
The bill was signed by Governor Mitch Daniels—with the caveat that no money was placed in the revolving loan fund. "It's a dead branch on the government tree until somebody comes along and cultivates it," says Cantril, who has continued to search for alternative methods of funding for the bill.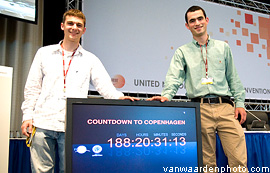 This past summer, Cantril traveled with fellow DEPP member Anthony M. Baratta '11 to Bonn, Germany, to participate in United Nations Climate Change Talks, the second in a series of international negotiations scheduled to conclude in Copenhagen in December. The climate agreement that emerges from Copenhagen will supplement or replace the Kyoto Protocol as it expires in 2012. Cantril's time in Bonn added international experience to his campus and state environmental policy résumé.
"I've realized the importance of policy in how our lives—not just human, but entire ecosystems—are shaped," Cantril says. "I feel like I'll be involved in that process as long as I think I can change things for the better."
On Sept. 15, one year after becoming a signatory of the American College & University Presidents Climate Commitment, DePauw completed its first carbon footprint, a detailed inventory of the University's greenhouse gas emissions. Cantril served as student chair of the Energy and Climate Working Group, which spent the previous year collecting data for the report. Using the footprint as a guide, the University will be able to choose the most efficient strategies to realize the ultimate goal of carbon neutrality.
"I think I'm lucky to have been involved in sustainability while it has become a more important issue at DePauw," Cantril says. "A collection of students, staff, faculty members and a new president came together at just the right time for me to see and play a role in the changes."
Back