Prof. John Dittmer Recalls "Larger Than Life" Civil Rights Figure, T.R.M. Howard
September 28, 2009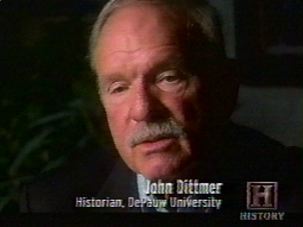 September 28, 2009, Greencastle, Ind. — "He was larger than life, and he minced no words," John Dittmer, professor emeritus of history at DePauw University, says of T.R.M. Howard. A physician and entrepreneur, Howard was a figure in Mississippi's civil rights movement. According to Dittmer, "He blasted black doctors for driving around in Cadillacs and not getting involved in the civil rights movement."
Dr. Dittmer is quoted in a story in the Clarion-Ledger of Jackson, Mississippi, which examines a new book, Black Maverick: T.R.M. Howard's Fight for Civil Rights and Economic Power.
The book's authors are David and Linda Royster Beito.
"Dittmer, author of Local People: The Struggle for Civil Rights in Mississippi, said the Beitos' book fills a valuable need," writes Jerry Mitchell. "Many Mississippians have heard of early civil rights leaders such as Medgar Evers, Aaron Henry and Amzie Moore, but few have heard of Howard, he said."
Access the complete story, "Remembering a fighter," at the newspaper's Web page.
One of the nation's top civil rights historians, John Dittmer taught at DePauw from 1985 until his retirement in 2003. Local People, published in 1994, won several awards including the Bancroft Prize, generally considered the most prestigious award in the field of American history writing. The Good Doctors: The Medical Committee for Human Rights and the Struggle for Social Justice in Health Care was published in May and was noted in the Chronicle of Higher Education and in Mississippi's Jackson Free Press.
Learn more about the professor in this recent article.
Back