Former Prof. David Ott Injured in Stage Mishap at Debut of His Opera
September 28, 2009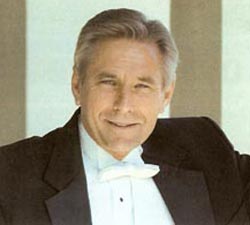 September 28, 2009, Greencastle, Ind. — "I am a living miracle," says David Ott. The composer and former DePauw University School of Music professor was seriously injured Friday night after suffering a 14-foot fall during the world premiere of his opera, The Widow's Lantern. "As Charles Dickens said in A Tale of Two Cities, 'It was the best of times, it was the worst of times.'"
The Northwest Florida Daily News reports that the accident took place at the conclusion of the performance. Ott tells the newspaper, "After the opera, the orchestra pit was raised back to stage level so the musicians could get their instruments, I guess. All the lights were off, and I went back to get my score ... I stepped onto what I thought was the floor (of the orchestra pit) and there was nothing there."
The composer landed in the basement below the orchestra pit and broke nine vertebrae, dislocating his shoulder and possibly breaking an ankle. (at right: David Ott at DePauw)
"I landed flat on my back on the concrete floor," Ott reports. "It's a miracle that I'm not hurt worse than I am. I feel great. I can sit up and move around."
The composer says he hopes to be back on stage as soon as Thursday.
Read the full story here. Also available is an Associated Press report.
Learn more about The Widow's Lantern in this article.
Back