Junior Eyes Run for Illinois House of Representatives Seat
September 30, 2009

September 30, 2009, Greencastle, Ind. — "Jacob Lane, a 21-year-old junior at DePauw University in Greencastle, Ind., said Tuesday that he is 'leaning toward' running" as a Republican candidate for the Illinois House of Representatives, reports the News-Gazette of Urbana-Champaign. Lane would seek the 104th District seat, which is currently held by the retiring Rep. Bill Black.
Tom Kacich writes, "Lane, a Danville native, plans to live in Indiana until December 2010, when he anticipates graduating from DePauw. By that time he hopes to be elected to the Illinois House. He said he is registered to vote in Vermilion County."
"If I win the primary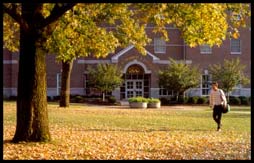 and then get elected in November, I'd have my bachelor's degree by the time I had the seat," Lane tells the newspaper. "I've had people ask me, because I'm young, if I can keep up with everything in Springfield. The question is, can they keep up with me? I'm a very ambitious person."
He adds, "I want to be a fierce defender of downstate Illinois, and I want to help bring jobs to Illinois. One thing I will never do is vote to raise my own pay. My job is to go to Springfield and look out for my constituents and not for myself."
You'll find the complete story at the News-Gazette's Web site.
Back