Prof. Beth Hawkins Benedix is Editor of Subverting Scriptures
October 13, 2009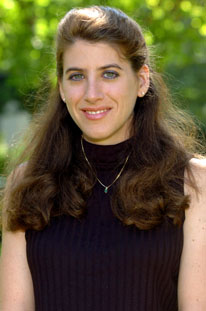 October 13, 2009, Greencastle, Ind. — Beth Hawkins Benedix, associate professor of religious studies at DePauw and coordinator of the University's Jewish studies program, is the editor of Subverting Scriptures: Critical Reflections on the Use of the Bible. The book has just been published by Macmillan.
"Focusing on writers who approach the Bible as a source that is both instructive and dangerous, Subverting Scriptures seeks to provide an academic analysis of cultural biblical saturation at a time when measured voices are necessary to counterbalance politically motivated religious rhetoric," notes a synopsis of the text. "Using as its point of departure the current political landscape -- where the Bible is drawn on freely and unabashedly without critical reflection to legitimate and justify all manner of agendas -- the contributors in this collection engage the Bible in new, imaginative, and critical ways, in the hopes of creating a new space for dialogue."
"This provides a new and convincing account of the strategic reception of the Bible in a wide range of writers and thinkers," states Sander L. Gilman, Distinguished Professor of the Liberal Arts and Sciences at Emory University. "That such a use can be truly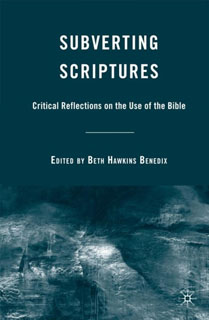 subversive; that it can undermine the very meaning attached to biblical narratives by organized religion, is one of the surprising and exciting discoveries of this readable and intelligent book."
Jeremy Dauber, associate professor of Yiddish language, literature and culture at Columbia University adds, "This could not be more timely or more crucial; in a period where we are ever more conscious of the effect of the appropriation, manipulation, subversion, or reinterpretation of canonical religious texts for at times bewildering variety of purposes, any attempt to examine the phenomenon is highly welcome ... This has the potential to be a frequently consulted and often thumbed anthology of secondary literature that creatively rediscovers a perennially absorbing topic."
Beth Benedix previously authored Reluctant Theologians: Franz Kafka, Paul Celan, Edmond Jabès and has contributed chapters to a number of other books. Her articles and reviews have appeared in journals such as Shofar, Journal of Jewish Thought and Philosophy, Holocaust and Genocide Studies, and Journal of the Kafka Society of America. She is currently working on the story of a Holocaust survivor.
Read more, and order Subverting Scriptures, at the publisher's Web site or Amazon.com.
Back