Jason Asbury '95 and Tom Turk '58 Assist Greencastle HS Band Program
October 15, 2009
October 15, 2009, Greencastle, Ind. — "The creation and appreciation of art is essential to the human spirit," says Jason A. Asbury, a 1995 graduate of DePauw University, who created the Asbury Endowment for the Arts. A story in the Banner-Graphic notes that Asbury's endowment is providing nearly $800 Greencastle High School to provide the band with new instruments.
"I am glad to support the band because with all the funding cuts, public schools must obtain voluntary donations if they are to continue to provide the opportunities for rich learning experiences we have come to expect for our children," says Asbury, who received DePauw's Young Alumni Award earlier this month.
"Jason Asbury is a vital philanthropic partner for the arts in Putnam County," declares Elaine Peck, executive director of the Putnam County Community Foundation. "He currently lives in New York City, but we stay in touch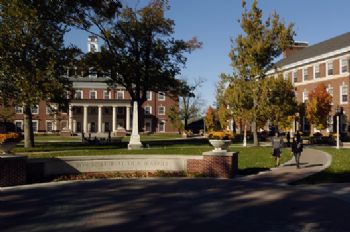 regularly so he can make informed decisions about supporting the arts here at home."
A graduate of South Putnam High School and "a gifted pianist and organist, Asbury was able to attend DePauw because of the Prevo Scholarship, established by Edgar Prevo ['12]," notes the newspaper. "Inspired by the impact this scholarship made in his life, Asbury began working to build the Asbury Endowment for the Arts while still an undergraduate student."
The same article in the Banner-Graphic points out that Tom Turk, a 1958 DePauw graduate, has also reached out to the high school music program.
"Five or six years ago, I realized I would no longer be performing on the vintage Conn trombone I played in the Greencastle High School Band from 1949 to 1954," Turk says. "So I contacted the GHS Band director and donated the instrument to the school."
Read the complete text at the newspaper's Web site.
Back