David Greising '82 Leaves Chicago Tribune for New "Journalism Model"
October 28, 2009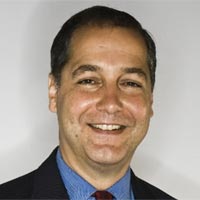 October 28, 2009, Greencastle, Ind. — "David Greising, one of the Chicago Tribune's best-known columnists, has left the paper to join a start-up news cooperative founded by former Tribune Managing Editor James O'Shea," reports Crain's Chicago Business. A 1982 graduate of DePauw University, Greising "adds to the star power at Mr. O'Shea's Chicago News Cooperative, which already has on board former Tribune Managing Editor James Warren and, as a director, former Trib Editor Ann Marie Lipinski."
Ann Saphir writes, "The cooperative, funded in part by the John D. and Catherine T. MacArthur Foundation and backed by WTTW-TV/Channel 11, aims to rejuvenate the news business at a time when many of the old-line for-profit newspapers, including the Trib, are struggling with plunging ad sales and declining circulation."
Greising tells the newspaper, "Part of the attraction for me in this whole venture is approaching something in a way that hasn't been tried before and we hope will rebuild a sustainable, commercial, socially beneficial journalism model. If it does turn out that the revenue streams that are developed are good, we could do something that will be successful not only in Chicago but can be replicated across the
country."
Read the complete story at the publication's Web site.
The editor of The DePauw while an undergraduate and the former Atlanta bureau chief for Business Week magazine, Greising is the author of I'd Like the World to Buy a Coke: The Life and Leadership of Roberto Goizueta and co-authored Brokers, Bagmen and Moles: Fraud and Corruption in the Chicago Futures Market. Greising and his wife, Cynthia Hedges Greising '82, collaborated on the children's book, Toys Everywhere!.
In 2006, David Greising won the Peter Lisagor Award for Exemplary Journalism. Learn more in this previous story.
Back