ArtsFest 2009: Art & Power
November 2, 2009
ArtsFest 2009 banners are lining campus sidewalks, fliers announcing a plethora of events are posted and the weeklong celebration of arts at DePauw has begun! ArtsFest 2009: Art & Power runs from Nov. 1-7. ArtsFest has been an annual event since 2002. This year's theme promotes exploring the intrinsic power of art to change people and change the world. Click here for a complete calendar of events.


Sunday, Nov. 1 marked the first day of the celebration with Art Attack for children in the Greencastle community. Always a popular event, more than 250 people attended. It was held in the Judson and Joyce Green Center for the Performing Arts, and it was a day full of performances and art activities for children that were primarily organized and offered by 25 DePauw student organizations. The organizations included many Greek houses, Panhel, Student Arts Council, Association for African-American Students, Feminista!, Building Tomorrow, Center for International and Experiential Learning, Poetry Club, A Midwestern Review, Music Educators National Conference, Asia Club, Committee for Latino Concerns, DePauw Cappella, Gospel Choir, Color Guard, XCell, Public Parts Ltd Improv Troupe, Wamidan, WGRE and D3TV.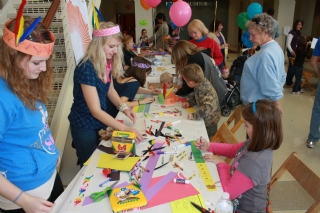 Children plunged into a wide array of art forms: face painting, poetry writing, mask making, knitting, cave painting and Chinese calligraphy art. They also participated in yoga, belly dancing, instrument exploration, puppet making and puppet shows.

"Art Attack is an excellent outreach opportunity with the Greencastle community, and a great atmosphere in which to better familiarize kids with the joys of art," Gigi Jennewein Fenlon says. Fenlon is ArtsFest coordinator, coordinator of arts publicity and marketing, and part-time assistant professor of communication and theatre.

A veteran Art Attack student coordinator, Laura M. Durham '11 is a communication and English writing double major. "I'm involved in Art Attack because someday I hope to be involved in arts administration. I really enjoy putting together art events and being a part of the end product," Durham says. "Art Attack was so rewarding last year, and I was excited to be apart of it again this year."

Durham is also participating in another ArtsFest event: Insomniac Theatre, a 24-hour event that starts on Nov. 6. "We write, direct, rehearse and perform the plays all in one day. We did this last year, and it went really well so we're going to try it for a second time!" The event will take place at 7:30 p.m. on Nov. 7 in Kerr Theatre in the Green Center for the Performing Arts.


Gerard J. Pannekoek '11 is an English writing major, member of Student Arts Council and an Art Attack student coordinator. "This year we started Artsfest week with Art Attack in hopes that it would give the Greencastle community a chance to see what the rest of the week has to offer. Art Attack not only introduces art to kids in the community, but also addresses a DePauw initiative to bridge the gap between the Greencastle community and the University," Pannekoek says.
"Art Attack is absolutely wonderful," says student coordinator Jacqueline R. Keyes '11, a philosophy and English literature major. "I love that kids and parents in town can come and participate in so many different arts activities. There really was something for everyone to enjoy," Keyes says.

A continuing event throughout ArtsFest week is Graffiti Wall: A Representation of Power Through Art. A workshop on Nov. 2, led by graffiti artist Daniel D. Sanchez '10, will demonstrate how graffiti uses the power of words and images created through individual artistic expression to portray important feelings and beliefs. All are invited to add to the Graffiti Wall located outside of Julian Science and Mathematics Center, which will be on display for the duration of ArtsFest. The event is sponsored by the Office of Multicultural and Community Life. Click here to read more about Sanchez as a graffiti artist.

Fenlon says that ArtsFest and Art Attack wouldn't be possible without the students working with her who are involved in all aspects of the event. "There is absolutely no way I could do this without them. They are all extremely talented," Fenlon says.

Ashley E. Odle '10, an English writing and communication double major, is also editor of the Arts@DePauw electronic newsletter. "My responsibilities include designing and managing the Web sites that give brief, detailed and linked information about ArtsFest that is provided to the community. It's great to see our campus come together in different ways with the children and the families from the community," Odle says.

Arts marketing and publicity associate Andrea E. Hutchinson '11 is responsible for designing the
posters and banners seen around campus. She is a studio art major with a focus in photography. "This year's poster wasn't so much my design, but I worked to alter the colors and information presented," Hutchinson says. "The committee decided to use the work of Soviet artist Alexander Rodchenko because his constructivist style played well with the Art & Power concept of this year's ArtsFest. With my work on ArtsFest this year, I have learned about the great artist Rodchenko, Soviet Russia and Lilya Brik - the woman's face who appears on the poster."

"It's been a great experience, but without Gigi Fenlon, the efforts my colleagues and I put forth would be in vain," Hutchinson says. "She really gets the ball rolling."

Fenlon has been ArtsFest faculty sponsor and coordinator for the last six years. "The history of ArtsFest began in 2000 when the creative and performing arts were the topic for exploration by one of DePauw's top advisory boards, the Board of Visitors. They concluded that DePauw did too little to celebrate the strengths in theatre, creative writing and visual arts," Fenlon says. "It was suggested that we might accomplish the goal of promoting the strengths of all programs through collaboration."

As a result, the Arts Coordinating Council, composed of representatives from all of the arts programs, was formed, and ArtsFest emerged from their collaborative efforts. "ArtsFest has been making strides annually at its mission to raise awareness of the depth and breadth of the arts at DePauw," Fenlon says. "It allows us to do exactly what the Board of Visitors intended. It showcases arts - in collaboration. Many different departments and organizations are involved, and it's significant that ArtsFest is still going and continuing to grow," Fenlon says.
Back