Sophomore is 'Realizing the Dream'
November 10, 2009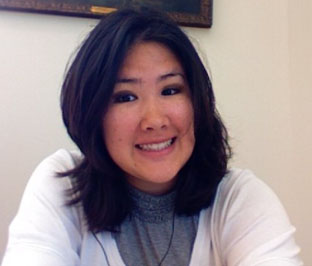 November 10, 2009, Greencastle, Ind. — Lisa A. Poole, a DePauw University sophomore from Crawfordsville, Indiana, was honored Saturday night along with 32 other outstanding first-generation college students who attend independent colleges throughout Indiana. The "Realizing the Dream" program, presented by the Independent Colleges of Indiana (ICI) and Lilly Endowment, recognizes the triumphs of first-generation students in their first year of college. Poole and the other honorees are Indiana high school graduates who demonstrated superior academic performance during their first year of studies and also exhibited leadership in campus and/or community activities. Each winner receives a $2,000 grant.
The program also celebrates the roles played by teachers and parents in shaping student aspirations for a college education. Honorees each named the elementary or secondary teacher or counselor who most influenced them to attend college. The mentors each receive a $1,000 professional development award.
Poole attended Saturday's awards banquet at the Hilton Indianapolis North with Susan Jackson, her Spanish teacher for three years at Southmont High School in Crawfordsville. (photo: Poole and Jackson with former Martin University President Rev. Fr. Boniface Hardin, the keynote speaker at Saturday's banquet)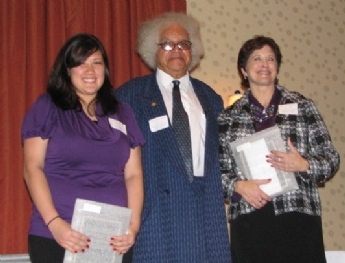 "Although I am not currently studying Spanish, I feel like the lessons she taught me went past just conjugating verbs and writing sentences," Poole says of Jackson. "In the three years (of my total 4 years of Spanish) with Señora, she challenged us to take on information that was way past our actual level (as a senior I was taking college level dual-credit Spanish class). Furthermore, she encouraged me to learn about new cultures by making time to relate the traditions and practices of the many different Spanish speaking countries, which eventually led me to discover the cultures of East Asia (that is now my minor at DePauw). I know this may sound really trivial, but if I had not been in her class, I would not be the same person I am today."
Twenty-four percent of DePauw's current freshman class are first generation college students.
"Bringing attention to the abundant opportunities for higher education offered at Indiana's independent colleges is the goal of 'Realizing the Dream,'" says Tony Maidenberg, interim president of ICI. "We're thrilled to share success stories such as Lisa's."
Back