DePauw Relinquishes Monon Bell after 32-19 Loss; NCAA Postseason Announcement Sunday
November 14, 2009
Follow DePauw Athletics on Twitter | Become a Fan of DePauw Athletics on Facebook
November 14, 2009, Greencastle, Ind. — Visiting and 14th-ranked Wabash converted five straight possessions into touchdowns and reclaimed the Monon Bell with a 32-19 win over DePauw in front of a national television audience on HDNet and 8,070 spectators at a sold out Blackstock Stadium.
With the win, the Little Giants took the lead in the series which began in 1890, 54-53-9 and narrowed DePauw's lead in Monon Bell games to 37-35-6. DePauw finished the regular season at 7-2, while Wabash is 9-1.
Last Saturday, DePauw captured the Southern Collegiate Athletic Conference's automatic bid into the NCAA Division III Championship and, tomorrow afternoon, will learn of their opening-round opponent. Wabash is seeking an at-large berth into the 32-team field.
DePauw took the opening kickoff and drove to the Wabash 37 before Wabash's Matt Kraft tipped and then intercepted Spud Dick's pass and returned it to the DePauw 49. The Little Giants then took the ball down to the Tigers' 7, but Spencer Whitehead's 25-yard field goal was wide to the left.
The Tigers reached the scoreboard first after stopping Wabash on downs early in the second and taking over on their own 33. Dick teamed with Alex Koors for a 40-yard strike on the first play of the series and then finished the drive with a 4-yard touchdown pass to Nathan Evans.

[Download Video: "DePauw Scores First"]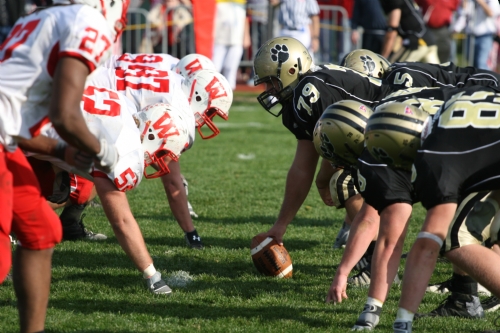 After stopping Wabash near midfield on the next possession, the Tigers drove all the way to the Wabash 6, but a bad snap on third-and-one forced DePauw to attempt a 45-yard field goal.

[Download Video: "A Costly Exchange"] Jordan Havercamp's boot was blocked by Jake Kolisek and Wabash took over with just 57 seconds left in the half.

[Download Video: "Blocked field goal"]
A 37-yard pass play on second down from Matt Hudson to Kody LeMond moved the Little Giants to the DePauw 35. Following a holding penalty which set the Little Giants back 10 yards, Hudson and LeMond connected on a 24-yard pass play before Brady Young caught a 9-yard pass to the DePauw 9.
After a timeout, Hudson and LeMond teamed for a 9-yard score with just less than seven seconds remaining in the half.

[Download Video: "Wabash Gets on the Board"] Ryan Woodard blocked the point-after and DePauw held a 7-6 lead which it took into the intermission.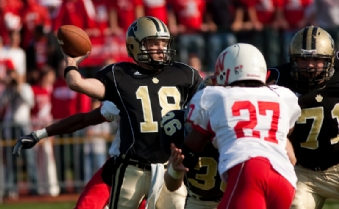 Wabash took its first lead of the game after driving 72 yards in eight plays capped by Derrick Yoder's 9-yard scoring run. The two-point conversion pass was intercepted.

[Download Video: "Wabash's first lead"]
DePauw answered, however, as Jon Ellis' 1-yard run put the Tigers ahead with with 5:02 remaining in the third. Dick's try for two failed, but DePauw led 13-12.

[Download Video: "DePauw regains lead"]
The Little Giants wasted little time in taking the lead for good as Hudson picked up 14 yards on a first down run and then connected with Jonathan Horn for a 51-yard score.

[Download Video: "Long TD pass"] Again the two-point conversion attempt failed and Wabash led, 18-13.
A holding penalty on the ensuing kickoff return pushed the Tigers back to their own 8 and three plays later, Addrian Frederick picked off Dick at the DePauw 14 and returned it to the 8.

[Download Video: "Turnover"] On Wabash's third play from scrimmage, Hudson tossed a 5-yard pass to Wes Chamblee to make it 25-13 with 3:01 left in the third.

[Download Video: "Wabash extends lead"]
DePauw drove into the Wabash red zone early in the fourth, but Dick's 10-yard pass to Brayden Dahlstrom was just short of a first down. Wabash converted that into a score with a 14-play, 92-yard drive which consumed a critical 7:42 and was capped by Tommy Mambourg's 1-yard run with 5:14 left which made it 32-13.

[Download Video: "Wabash extends lead again"] The key play of that drive was Hudson's fourth-and-short keeper from the Little Giants' 17 which kept the drive going.
The Tigers responded as Dick completed all eight passes in driving the Tigers 73 yards in just eight plays with Dahlstrom hauling in a 5-yard score to make it 32-19 with just 3:23 remaining.

[Download Video: "Game's final score"]
DePauw was unable to recover an onside kick and the Little Giants were able to run the clock down to 40 seconds and seal the win.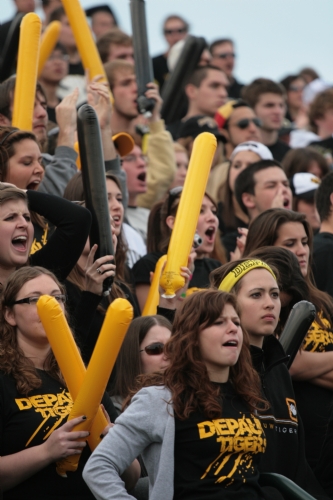 The Tigers outgained Wabash 450-418. held a 30-20 advantage in first downs and possessed the ball for 37:28, but committed three turnovers to the Little Giants' zero.
Dick completed 39 of 50 passes for 380 yards and two touchdowns, but was intercepted three times. His 39 completions were the second-most in a DePauw game behind Jason Lee's 41 in 2000. In his four starts against Wabash, he completed 108 of 139 passes for 1,084 yards.
His passes went to nine different players as Koors led the way with 11 catches for 149 yards. Bryan Mulligan and Dahlstrom each had second catches and Evans, a Crawfordsville native, had five receptions. Derrick Karazsia carried the ball 17 times for 58 yards.
Hudson completed 19-of-30 passes for 325 yards and three scores with Chamblee catching seven for 97 yards. Horn and LeMond each hauled in four for 103 and 81 yards, respectively. Tommy Mambourg totaed 42 yards on 13 carries.
Defensively, Thomas Wrona led the Tigers with eight tackles, while Ryan Preuss had five. CJ Gum led Wabash with 12 stops and Jake Martin added nine. Wabash broke up six passes with Daniel Eddelman recording two.
The pairings for the 2009 NCAA Division III Football Championship will be carried on ESPNEWS, between 3 and 3:30 p.m. tomorrow.
Back