Reich Finishes Fourth; Tigers Place 20th at NCAA Cross Country Championships
November 21, 2009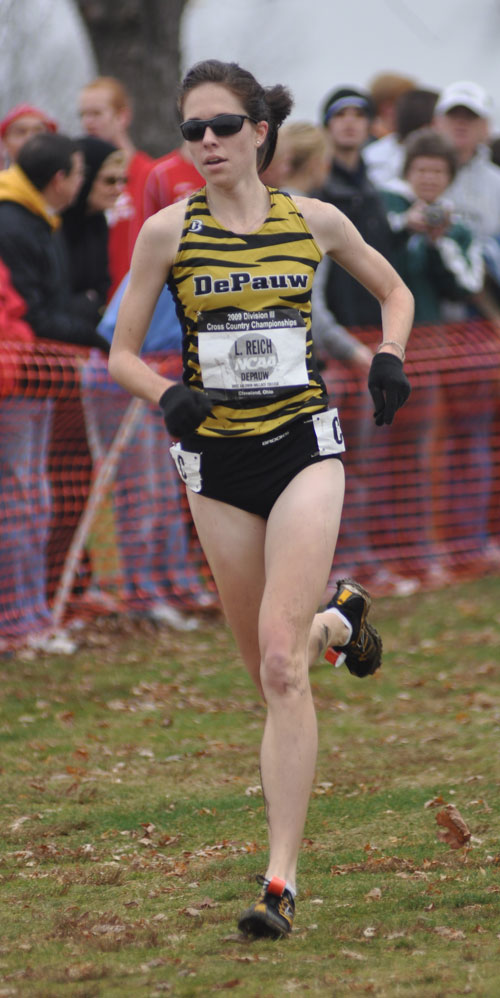 November 21, 2009, Highland Hills, Ohio — Led by Lauren Reich's fourth-place finish, DePauw placed 20th at the NCAA Division III Women's Cross Country Championships.
The Tigers totaled 469 points, while Wisconsin-Eau Claire won the team title with 171 points.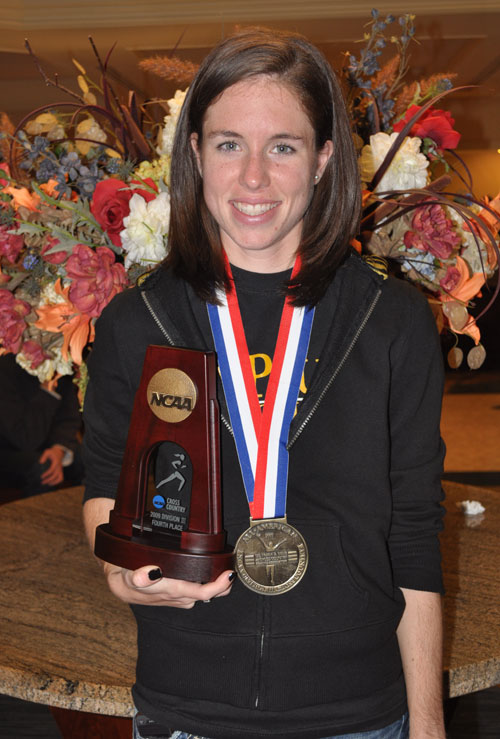 Reich (pictured) earned her second consecutive all-America honor with her fourth-place showing in 21:50.5. Ellen Mail was 128th in 23:49.6, followed by Claire Hollis in 131st in 23:51.2 and Jess Macy in 138th in 23:53.5
Melissa Buckley placed 245th in 25:17.4, while Kelsey Moore was 253rd in 25:24.4 and Julie Southworth finished 271st in 26:03.8.
Reich was also featured today by NCAA.com.
Follow DePauw Athletics on Twitter | Become a Fan of DePauw Athletics on Facebook
                          2009 NCAA DIVISION III 
                    NATIONAL CROSS COUNTRY CHAMPIONSHIP
                     HOSTED BY BALDWIN-WALLACE COLLEGE
                              CLEVELAND, OHIO
                        SATURDAY, NOVEMBER 21, 2009
----------------------------------------------------------------------------
                           WOMEN'S TEAM RESULTS
----------------------------------------------------------------------------


  1.   171  Wis.-Eau Claire                             (23:03.2  115:15.8)
==========================================================
  1     14   741 Alyssa Sybilrud      SO 22:36.2
  2     24   735 Margaret Ho          JR 22:50.5
  3     30   734 Beth Easker          JR 23:03.4
  4     31   736 Hannah Humbach       SR 23:04.0
  5     72   740 Jenna Smith          SR 23:41.7
  6   ( 80)  738 Elizabeth Prunty     JR 23:46.7
  7   ( 95)  739 Kacey Rindy          SO 23:53.4

  2.   180  St. Lawrence                                (22:45.3  113:46.3)
==========================================================
  1      1   652 Wendy Pavlus         JR 21:28.0
  2      8   649 Johannah Ludington   SR 22:28.7
  3     11   646 Jenna Hulton         SO 22:31.5
  4     28   645 Megan Derby          SO 22:56.8
  5    132   647 Jackie Lemme         FR 24:21.3
  6   (136)  651 McKayla Nuffer       SO 24:23.1
  7   (177)  653 Hillary St. John     SR 25:00.4

  3.   195  Calvin                                      (23:09.7  115:48.1)
==========================================================
  1     25   431 Jessica Koster       SR 22:50.9
  2     26   428 Jesi Hale            SR 22:53.9
  3     33   425 Lauren Bergstrom     SR 23:05.9
  4     49   430 Jodi Hoekstra        SO 23:22.9
  5     62   432 Elizabeth Smit       SR 23:34.5
  6   (106)  426 Gretchen Braymer     JR 24:03.0
  7   (151)  427 Sarah Dugan          SR 24:36.3

  4.   244  Middlebury                                  (23:16.0  116:19.8)
==========================================================
  1     20   568 Addie Tousley        FR 22:43.6
  2     27   560 Sarah Lange          FR 22:54.8
  3     44   566 Sophia Spring        JR 23:16.0
  4     60   563 Elise Moody-Roberts  SO 23:33.0
  5     93   565 Amanda Quinlan       SR 23:52.4
  6   (145)  562 Claire McIlvennie    SO 24:28.6
  7   (166)  567 Erin Toner           JR 24:47.6

  5.   254  MIT                                         (23:13.9  116:09.2)
==========================================================
  1      9   576 Maria Monks          SR 22:29.5
  2     21   579 Jacqui Wentz         SR 22:43.6
  3     36   573 Alina Gatowski       JR 23:08.2
  4     86   577 Tania Morimoto       SO 23:49.1
  5    102   575 Brooke Johnson       FR 23:58.8
  6   (110)  572 Katherine Eve        SO 24:06.3
  7   (172)  578 Missy Showers        FR 24:56.8

  6.   291  Whitworth                                   (23:21.4  116:46.6)
==========================================================
  1     16   716 Joy Shufeldt         FR 22:38.4
  2     19   714 Dana Misterek        JR 22:39.4
  3     50   719 Tonya Turner         JR 23:24.1
  4     58   720 Kathryn Williams     JR 23:31.6
  5    148   713 Jo E Mayer           SR 24:33.1
  6   (175)  715 Emily Morehouse      SR 24:58.3
  7   (218)  712 Kaitlin Hildebrand   SR 26:07.5

  7.   306  Johns Hopkins                               (23:31.1  117:35.3)
==========================================================
  1     37   548 Laura Paulsen        SR 23:09.1
  2     42   547 Mira Patel           SR 23:14.7
  3     57   543 Cecilia Furlong      SO 23:30.8
  4     65   549 Liz Provost          FR 23:37.8
  5    105   545 Nadia McMillan       SR 24:02.9
  6   (144)  546 Mary O'Grady         SR 24:28.4
  7   (195)  550 Christina Valerio    JR 25:18.7

  8.   309  Williams                                    (23:29.8  117:28.8)
==========================================================
  1     34   726 Jennifer Gossels     FR 23:05.9
  2     38   727 Olga Kondratjeva     SR 23:11.4
  3     55   730 Elly Teitsworth      SR 23:27.5
  4     83   725 Lauren Goldstein-Kral SO 23:47.6
  5     99   724 Annie Dear           FR 23:56.4
  6   (115)  729 Meghan Shea          JR 24:10.0
  7   (174)  728 Bret Scofield        SR 24:57.0

  9.   320  Geneseo St.                                 (23:29.5  117:27.5)
==========================================================
  1     12   510 Sandra Goettleman    SR 22:33.3
  2     56   512 Marissa Liberati     FR 23:28.1
  3     70   514 Liz Montgomery       SR 23:41.5
  4     82   515 Maggie Morris        SR 23:47.6
  5    100   511 Brigid Heenan        FR 23:57.0
  6   (101)  516 Alyssa Smith         SO 23:58.1
  7   (178)  517 Emily Sullivan       FR 25:01.3

 10.   334  Washington U.                               (23:29.0  117:24.7)
==========================================================
  1     13   689 Taryn Surtees        JR 22:36.0
  2     35   688 Molly Schlamb        SR 23:07.6
  3     39   686 Jessica Londeree     JR 23:12.1
  4    118   687 Elizabeth Phillips   SO 24:11.4
  5    129   685 Erica Jackey         SO 24:17.6
  6   (143)  682 Bronwyn Bedrick      FR 24:28.1
  7   (161)  684 Sangeeta Hardy       JR 24:42.2

 11.   357  Carleton                                    (23:29.8  117:28.6)
==========================================================
  1      7   435 Simone Childs-Walker SO 22:27.4
  2     18   441 Laura Roach          SR 22:39.3
  3     67   442 Alison Smyth         SO 23:40.5
  4    126   436 Taylor Ffitch        SO 24:15.4
  5    139   440 Nicole Reich         SR 24:26.0
  6   (159)  438 Irene Koplinka-Loehr SR 24:40.6
  7   (213)  439 Kaitlin Randolph     SO 25:37.4

 12.   365  Nebraska Wesleyan                           (23:35.0  117:54.7)
==========================================================
  1      6   590 Jackie Spelts        SR 22:22.6
  2     68   591 Haley Sutter         JR 23:40.9
  3     71   582 Amanda Costello      FR 23:41.6
  4     92   587 Hannah Kinberg       SO 23:52.4
  5    128   588 Katie Nelson         SO 24:17.2
  6   (158)  584 Kate Hannon          JR 24:39.9
  7   (185)  585 Malania Huebert      SO 25:09.0

 13.   398  Wis.-Oshkosh                                (23:32.0  117:39.9)
==========================================================
  1      2   760 Ayla Mitchell        SR 21:46.3
  2     54   762 Jenny Piskor         JR 23:26.8
  3     76   759 McKenzie Kelly       FR 23:45.2
  4    120   756 Allison Gehl         JR 24:11.8
  5    146   754 Mallory Burk         JR 24:29.8
  6   (169)  761 Cassie Petersen      JR 24:51.8
  7   (191)  757 Brittany Haas        JR 25:14.2

 14.   409  Wesleyan                                    (23:41.5  118:27.4)
==========================================================
  1     15   695 Ravenna Neville      SR 22:37.2
  2     47   694 Julia Mark           FR 23:19.8
  3     75   692 Rose Keogh           FR 23:43.4
  4    123   698 Sarah White          JR 24:13.5
  5    149   691 Tess Crain           SO 24:33.5
  6   (187)  696 Jessica Sherry       FR 25:12.2
  7   (196)  693 Jessica Levin        JR 25:19.2

 15.   411  Case Western                                (23:37.0  118:05.0)
==========================================================
  1     10   451 Elaine Simpson       SR 22:30.5
  2     23   450 Justine Jeroski      JR 22:44.1
  3    116   447 Andrea Fischione     JR 24:10.7
  4    127   446 Natalia Cabrera      SO 24:17.2
  5    135   449 Colleen Heffernan    SR 24:22.5
  6   (160)  448 Kristen Hederstrom   JR 24:41.8
  7   (186)  452 Cindy Spahn          JR 25:11.4

 16.   447  Wartburg                                    (23:51.5  119:17.4)
==========================================================
  1     29   673 Anna Kraayenbrink    SR 23:00.0
  2     64   675 Jennifer Kuiken      SR 23:37.5
  3     84   674 Amanda Kuiken        SR 23:48.3
  4     97   679 Lori Tlach           JR 23:54.6
  5    173   671 Nicole Calabrese     SR 24:57.0
  6   (176)  680 Brendelyn White      SR 24:58.5
  7   (188)  677 Laura Sigmund        SO 25:12.5

 17.   458  Wis.-La Crosse                              (23:46.4  118:51.7)
==========================================================
  1      5   749 Stephanie Perleberg  SR 22:21.2
  2     43   752 Katelyn Williams     SR 23:14.9
  3    103   746 Alison Kolinski      SR 24:00.6
  4    140   744 Zoe Browne           SR 24:26.3
  5    167   751 Kriston Siemianowski SO 24:48.7
  6   (182)  745 Meghan Dugan         SR 25:06.8
  7   (199)  743 Rachel Boldt         JR 25:20.6

 18.   459  Dickinson                                   (23:53.9  119:29.4)
==========================================================
  1     32   495 Kim Powell           JR 23:05.2
  2     40   490 Catherine Campbell   SO 23:14.1
  3     74   492 Mary Hamilton        SR 23:43.2
  4    124   497 Sarah Romano         SR 24:13.9
  5    189   493 Merit O'Hare         SO 25:13.0
  6   (204)  494 Julie Platt          SO 25:25.2
  7   (223)  496 Rebecca Robbins      SO 27:04.3

 19.   468  Central College                             (23:55.7  119:38.4)
==========================================================
  1     46   458 Amber Mayer          SR 23:18.0
  2     61   454 Angie Berry          SR 23:33.5
  3     77   453 Hannah Anderson      SR 23:45.2
  4    114   456 Amy Ledvina          SR 24:09.4
  5    170   459 Mel McDermott        FR 24:52.3
  6   (181)  457 Melanie Louis        SO 25:03.4
  7   (215)  460 Rachelle Tipton      SR 25:53.5

 20.   469  DePauw                                      (23:44.5  118:42.2)
==========================================================
  1      3   488 Lauren Reich         SR 21:50.5
  2     87   486 Ellen Mail           SR 23:49.6
  3     89   484 Claire Hollis        SO 23:51.2
  4     96   485 Jess Macy            FR 23:53.5
  5    194   482 Melissa Buckley      SR 25:17.4
  6   (201)  487 Kelsey Moore         SO 25:24.4
  7   (217)  489 Julie Southworth     SR 26:03.8

 21.   473  Amherst                                     (23:56.8  119:43.7)
==========================================================
  1     51   408 Ali Simeone          FR 23:24.2
  2     66   407 Hallie Schwab        JR 23:39.7
  3     69   403 Sophia Galleher      SR 23:40.9
  4    125   409 Melissa Sullivan     SO 24:15.1
  5    162   410 Mercedes Taylor      JR 24:43.8
  6   (171)  402 Sarah Daly           FR 24:56.4
  7   (202)  404 Keri Lambert         FR 25:24.4

 22.   487  Claremont-Mudd-Scripps                      (23:53.0  119:24.9)
==========================================================
  1     22   475 Jennifer Tave        SO 22:43.8
  2     48   473 Julia Rigby          SO 23:20.4
  3    104   471 Breanna Deutsch      SO 24:01.9
  4    150   476 Laura Wyatt          FR 24:34.6
  5    163   474 Ashley Scott         JR 24:44.2
  6   (209)  477 Aubrey Zimmerling    FR 25:31.9
  7   (222)  470 Kate Crawford        FR 26:46.8

 23.   500  Oberlin                                     (23:50.2  119:10.9)
==========================================================
  1      4   606 Joanna Johnson       JR 21:54.2
  2     52   611 Sara Terashima       FR 23:25.3
  3    111   610 Clara Shaw           SR 24:06.6
  4    133   609 Cordelia Revells     SR 24:21.5
  5    200   603 Julia Beebe          JR 25:23.3
  6   (211)  604 Nina Cole            SO 25:34.9
  7   (214)  612 Kristina Witcher     FR 25:53.1

 24.   508  NYU                                         (23:59.7  119:58.3)
==========================================================
  1     78   595 Joan Kanarkiewicz    SO 23:45.4
  2     85   594 Maeve Evans          SO 23:48.6
  3     98   596 Kirsten Keller       FR 23:54.8
  4    113   600 Kerra Vick           FR 24:07.4
  5    134   602 Paige Zelinsky       SO 24:22.1
  6   (153)  598 Laura Santoski       SO 24:37.4
  7   (216)  597 Emily Olsen          JR 25:56.1

 25.   513  Whitman                                     (24:01.6  120:07.6)
==========================================================
  1     63   703 Yasmeen Colis        SR 23:34.5
  2     73   707 Sara McCune          SR 23:41.7
  3     90   702 Kristen Ballinger    JR 23:52.2
  4    122   704 Michela Corcorran    SR 24:12.8
  5    165   708 Heather O'Moore      SR 24:46.4
  6   (180)  709 Emily Rodriquez      SR 25:03.3
  7   (183)  705 Emilie Gilbert       FR 25:07.3

 26.   539  Rhodes                                      (24:03.4  120:17.0)
==========================================================
  1     41   619 Cybil Covic          SR 23:14.6
  2     88   627 Taylor Stephens      SO 23:51.2
  3    121   620 Melissa Defabrizio   SR 24:12.5
  4    142   621 Kelsey Dudziak       JR 24:28.1
  5    147   625 Anna Johnson         JR 24:30.6
  6   (190)  623 Maddie Harrigan      FR 25:13.5
  7   (220)  626 Marianne Kirk        JR 26:15.9

 27.   557  St. Olaf                                    (24:08.4  120:41.6)
==========================================================
  1     45   664 Maren Westby         SO 23:17.0
  2     59   661 Emma Lee             FR 23:32.0
  3    131   662 Michaela McLaughlin  SR 24:18.4
  4    138   663 Abigail Smith        SR 24:25.3
  5    184   660 Georgia Greene       FR 25:08.9
  6   (205)  655 Nellie Adams         SR 25:25.7
  7   (208)  658 Laura Cook           JR 25:30.4

 28.   573  RPI                                         (24:09.3  120:46.1)
==========================================================
  1     53   634 Marie Ferro          FR 23:26.1
  2    109   641 Grace Tilton         FR 24:05.9
  3    117   637 Christine Koch       JR 24:11.0
  4    137   638 Erin Kyle            SR 24:23.3
  5    157   633 Danielle Cohen       JR 24:39.8
  6   (221)  636 Ariel Hubert         SR 26:26.3
  7   (224)  639 Ariel Mingrone       SO 27:48.0

 29.   583  Baldwin-Wallace                             (24:11.3  120:56.2)
==========================================================
  1     79   411 Kimberly Chinn       JR 23:45.6
  2     91   415 D'Arcy Hlavin        SR 23:52.3
  3    107   419 Sarah Rospert        FR 24:03.6
  4    152   412 Karin Coyne          JR 24:36.9
  5    154   417 Krysten Kovach       JR 24:37.8
  6   (164)  420 Katherine White      JR 24:45.0
  7   (212)  416 Julie Kotesovec      SO 25:35.9

 30.   626  Haverford                                   (24:12.7  121:03.2)
==========================================================
  1     17   522 Emily Lipman         SO 22:39.1
  2    130   528 Elizabeth Zoidis     JR 24:17.9
  3    155   527 Alice Vienneau       SO 24:37.9
  4    156   520 Harper Hubbeling     JR 24:38.0
  5    168   525 Andrea Tocci         FR 24:50.3
  6   (203)  526 Caitlin Tully        JR 25:25.1
  7   (207)  524 Kaitlyn Shank        SO 25:28.3

 31.   641  Ithaca                                      (24:19.4  121:36.8)
==========================================================
  1     94   531 Heidi Baumbach       SO 23:52.8
  2    108   532 Amanda Boccio        SR 24:04.0
  3    119   535 Melanie McCormick    SR 24:11.5
  4    141   533 Bridget Hastings     SR 24:27.1
  5    179   536 Catherine Ortiz      JR 25:01.4
  6   (197)  537 Jennifer Randall     FR 25:20.1
  7   (206)  539 Meghan Shanley       FR 25:26.1

 32.   776  Emory                                       (24:45.0  123:45.0)
==========================================================
  1     81   504 Rebecca Flink        SR 23:47.1
  2    112   503 Natalie Fenn         JR 24:07.0
  3    192   502 Jenny Feinberg       JR 25:14.6
  4    193   506 Tess Gallegos        SO 25:15.9
  5    198   501 Calley Edwards       FR 25:20.4
  6   (210)  505 Melanie Frank        FR 25:34.6
  7   (219)  500 Olivia D'Angelo      FR 26:13.3



 
Back