The Honor Scholar Program
December 7, 2009
The Honor Scholar Program at DePauw was founded 30 years ago – before Shelby D. Vorndran '10 was born. She and nine other Honor Scholars who will graduate in May are in the midst of preparing their senior theses – the culminating experience of the program. The seniors recently presented their thesis topics during the 5th Annual Honor Scholar Senior Thesis Poster Presentation.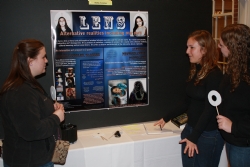 "My thesis is titled 'LENS: Alternative Realities Including Our Own.' It's an interactive art project with two components – masks and portraits," Vorndran says. She's a physics major and studio art minor and is thrilled to have the opportunity to combine both of her passions – science and art.

Questions Vorndran is tackling in her thesis include: How does our sense of the outer world and capacity for imagination combine to become our total perception? Why do we experience the world rather than the activity of neurons in our brains?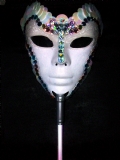 "We have a lens: a literal and philosophical window between ourselves and the outside world. Our vision isn't passive, objective or transparent. It's a product of evolution – a means of survival. It's colored with collective memory, cultural meaning and personal desire. Our vision is often as bizarre and distorted as the alternative lenses I present.

"In my thesis presentation, the audience will try on masks that provide a new perception not possible with human sight alone," Vorndran says. "They will see distorted versions of themselves in a mirror. In addition, I've taken photographic portraits that are altered to exaggerate real qualities of human vision. These qualities are themselves a distortion of the outside world."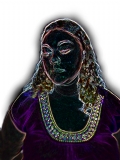 "We challenge students to think about topics in new ways and from different perspectives," Kevin E. Moore, director of the Honor Scholar Program and professor of psychology, says. "The program is for intellectually curious students who want to investigate a wide range of difficult problems, think critically, and make novel intellectual connections. These are students who are not satisfied looking at the world through one kind of lens."

Selected honors seminars are taken in conjunction with any major. In fact, the seminars build on the strength of each student's major. The program consists of three components: two first-year seminars, three advanced area seminars and senior thesis.

Moore has participated in the program for 10 years, serving on the Honor Scholar Steering Committee and teaching the area seminars. "I am excited to be the director. It's a treat for faculty members to be involved in the program. It offers us a chance for exploration outside of our disciplines because there is not a set core curriculum to cover. The seminars center around a topic but are interdisciplinary."

Currently, there are 30 first-year Honor Scholar students, and that number will increase in the spring with lateral-entry applicants. Prospective students can learn more about how to apply to the Honor Scholar Program here.


Students submit an essay and are interviewed by two faculty members and upper class Honor Scholar student – all of whom read the essay. "It's a chance for prospective students to see what an Honor Scholar seminar is like," Moore says. "It's a rigorous interview."

Vorndran vividly remembers her Honor Scholar interview four years ago. "I was impressed by DePauw. I was a high school student, and a college professor had read my essay and had taken me seriously."

Robert E. Calvert, professor emeritus of political science, was motivated to found the Honor Scholar Program by that same feeling – of being taken seriously – which he experienced in the late 1950s as an undergraduate student in the political science honors program at the University of California at Berkeley.

"I was deeply impressed by the attention we received from the two professors who team-taught our seminars," Calvert says. "Not only did they encourage vibrant discussions, they also provided for us a kind of model of the intellectual life as they openly and spontaneously disagreed with one another. I thought it was exactly the right kind of mentoring."

As a graduate student at Harvard University, Calvert was a teaching fellow in three areas – government, social relations and general education, as well as a resident tutor in one of the University's living units. "My experience there was like an extension of what I experienced at Berkeley." He worked closely with professors, tutored students and directed honors theses. "We were taken seriously, and in assigning honors, our judgment counted as much as a professor's."

As Calvert began to develop the vision and requirements of the Honor Scholar Program at DePauw, he looked to the programs at Berkeley and Harvard. "Both Berkeley's honors program and Harvard's tutorial system drew implicitly on Alfred North Whitehead's stages of learning," Calvert says.

Whitehead, a philosopher at Harvard during the 1920s and '30s, proposed that romance, precision and generalization compose the educational process. "Students should initially be hooked by the romance of ideas in the first-year seminars," Calvert says. "Get the students enamored with the pursuit of ideas and make those ideas come alive!

"Precision comes during sophomore and junior year seminars by digging into their resources and coming up with clear conceptions," Calvert says. Finally, generalization is the last element of the learning process that incorporates both romance and precision. For the Honor Scholar students, this final process results in the senior thesis.

"We hoped that these exceptionally talented students would leave DePauw with a sense of obligation to make the world a better place, yes as members of Jefferson's natural aristocracy but with the democratic touch," Calvert says.

"The Honor Scholar seminars helped me gain confidence in my views and find my voice," Vorndran says. After graduation this spring, she plans to attend graduate school to study physics. "If I become a scientist, it's important to have well-rounded ideas – to be aware of how my work is impacting others."
Back