High Hopes
December 7, 2009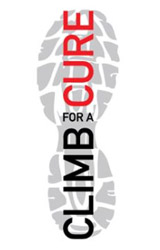 A group of DePauw students have their sights set on a truly lofty goal. Climb for a Cure's Kevin M. McLoughlin '10, Mitchel K. Hannum '10, Heidi N. Keiser '11, Andrew C. Repp '11 and Lauren E. Werckenthien '10 are trekking to Mt. Kilimanjaro's Kibo summit in January to raise money to fight pediatric brain cancer, a disease that took the life of McLoughlin's seven-year-old sister. They hope to generate $40,000 in donations — one dollar for each foot traveled up and down the mountain — to Riley Children's Foundation in Indianapolis, the Children's Brain Tumor Foundation and b.r.a.i.n. Child, a non-profit organization in Toronto, McLoughlin's home.
The idea for Climb for a Cure was sparked by a proverbial spin of the globe. While playing with Google Earth on his laptop one day, McLoughlin spun the virtual Earth on its axis to see where it would come to a rest.
"I always wanted to do something to raise money for the cause, and I already wanted to climb a mountain," McLoughlin says. "The globe stopped on Kilimanjaro. It just clicked; I could do both at the same time."
Hannum, McLoughlin's roommate, was the first to hear the idea.
"I told Mitch about what I wanted to do, and his first reaction was that I'd gone crazy," McLoughlin says. "When he noticed my resolve to do this, he got excited."
McLoughlin and Hannum asked Repp, a mutual friend, to join their cause. On Dec. 1, 2008, the three signed a commitment to climb Kilimanjaro in January 2010.
Since then, Climb for a Cure has grown considerably. Keiser and Werckenthien brought the number of student climbers to five, and nearly two dozen others have joined to manage Climb for a Cure's daily activities as a registered non-profit and an official student organization. McLoughlin credits Assistant Professor of English Kellie Dawson, the organization's faculty advisor, with helping him to develop concrete goals.
"We meet every Wednesday to work on fundraising ideas, future plans and discuss how to do it all while I'm still a student," McLoughlin says. "She's been an indispensable mentor for me."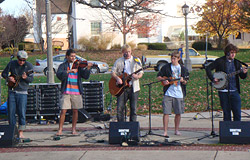 The organization has focused on spreading the word on campus by selling t-shirts, and hosted the Rock for a Cure benefit concert this semester. Earlier in the year, McLoughlin solicited the support of the University's most prominent individual.
"I sent [DePauw University] President Casey an e-mail out of the blue, and I heard back from him to set up a meeting time," McLoughlin says. "We sat on his couch and talked for an hour. Before I left, he told me to get DePauw to the top of the mountain. I thought that was awesome. He's pledged $1,000 of his own money to us."
The common reaction to the Kilimanjaro trip hasn't changed much since Hannum's first take. "There's disbelief that we could get together to do something like this," Hannum says. However, it's exactly that first impression that pays off for a group of college students trying to raise $40,000.
As Repp puts it, "People wouldn't be paying as much attention if we said we were going to climb Pikes Peak."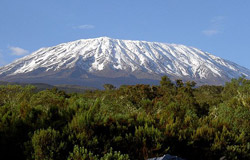 In many ways, the mystique that people associate with Kilimanjaro is warranted. The Tanzanian mountain is the highest point in Africa, reaching 19,340 feet above sea level. Approximately 10 climbers die on the mountain from altitude sickness each year, but as McLoughlin explains, careful planning can eliminate most of the danger.
"I lived in front of my computer last Winter Term trying to figure out whether this was even possible for a bunch of non-climbers," McLoughlin says. "Physically, Kilimanjaro is the easiest tall mountain to climb. It has been described to me as running a half marathon using one lung. Climbers have something like a 30-percent success rate of reaching Kilimanjaro's summit because the majority of expeditions try to go up in three or four days. We're going to take our time."
Werckenthien — the only one in the group with climbing experience — says that the best way to prepare for the climb is to mirror their activity on Kilimanjaro.
"We have to get out there and hike for six hours at a time," she says. "The climb is non-technical in the sense that you don't need mountaineering skills to do it, but Kilimanjaro is still almost four miles tall."
"I think that the amount of paperwork we've had to do for this has mentally prepared us for the climb," McLoughlin jokes.
The group has hired professional guide service Ultimate Kilimanjaro to help them on their way to the summit. The students estimate that the total cost for equipment, travel, food, lodging and the guide service comes to nearly $4,000 per climber, all out of pocket.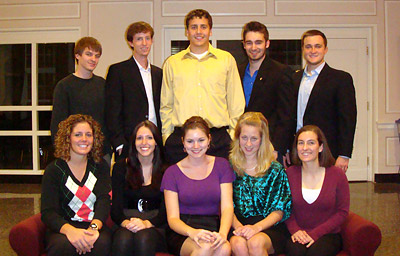 The cost and challenge of the trip are small, however, when compared to the seriousness of the cause. According to the Children's Brain Tumor Foundation, 3,400 children are diagnosed each year with brain cancer in the United States alone. The disease is the leading cause of cancer death among children, accounting for a quarter of cancer-related childhood deaths.
"Pediatric brain cancer is a disease that you don't really hear a lot about," says Ashley R. Ramsey '11, a fund-raising coordinator for the organization who helped to organize Rock for a Cure. "For many of us, Climb for a Cure was a wake-up call that the disease isn't getting enough attention."
While McLoughlin is the only member with a personal connection to the Climb for a Cure's cause, he says that it isn't hard for other students to relate to the organization's efforts.
"It's really kids helping kids," McLoughlin says. "We're just bigger kids who see that they need our help."
Visit Climb for a Cure's Web site at www.climb-foracure.com to read more about the organization and to donate, or send an email to andrew@climb-foracure.com to order an official Climb for a Cure t-shirt. All proceeds go to the organization's beneficiary charities.
Back