John and Rachel Jakes ('53 & '51) Benefit "A Vital Part of Our Lives"
December 12, 2009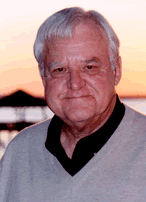 December 12, 2009, Greencastle, Ind. — "Mayo Clinic in Jacksonville, Fla., has announced that novelist John Jakes and wife, Rachel, gave a $2 million estate donation to 'create a posthumous fund that supports all areas of Mayo Clinic in Florida's mission in patient care, medical education and research,'" reports the Post-Bulletin of Rochester, Minnesota. John Jakes (pictured at left) is a 1953 graduate of DePauw University; Rachel (Payne) Jakes received a degree from DePauw in 1951.
Dr. William Rupp, CEO of Mayo Jacksonville, says, "We are grateful for the Jakes' partnership ... Their philanthropy
is especially important given the challenging nature of the health care economy."
The Jacksonville Business Journal adds, "Jakes, a Sarasota resident and author of 18 New York Times best-sellers, credits Mayo Clinic doctors with saving his life. The Jakeses are longtime patients of Mayo Clinic Florida. 'Mayo Clinic has become a vital part of our lives since we first visited in 1990,' John Jakes said."
The publication adds, "Jakes is recognized as a contemporary master of the family saga. He is the author of the eight-volume Kent Family Chronicles, the North and South trilogy, Homeland, American Dreams and Charleston."
Learn more about John Jakes in this previous story.
Back