Professor Humberto Barreto
January 20, 2010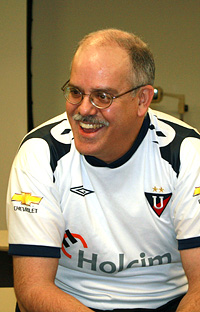 Economics is often thought of as an unwelcoming sea of choppy graphs and uncertain statistics, but Professor of Economics and Management and Elizabeth P. Allen Distinguished University Professor Humberto "Bert" Barreto has the ability to translate the subject into something that students understand. As Freakonomics author and University of Chicago economist Steven Levitt has proven, connecting economics to ordinary life just takes an open mind.
"As soon as a decision has to be made, that's economics," Barreto says. Of course, that's especially true when you are an economist.
When you learn something that allows you to make sense of apparent chaos, you inevitably begin to decode the world using your newfound knowledge. Barreto was raised in Miami at a time when the city's NFL team, the Dolphins, completed professional football's only perfect season. So, it's not surprising that he has an interest in the sport. Nor is it surprising that thathe has applied his knowledge of economics to certain football questions. One question in particular works well as a lesson in standard deviation and risk taking.
"In the NFL, it used to be that teams would run, run, run and only rarely pass," Barreto says. "In the [1973] Super Bowl that the Dolphins won, [Dolphins quarterback] Bob Griese only threw seven passes. Today, teams throw the ball all the time. But what hasn't changed is the average gain per play – about 4 yards per rush and 7 yards per pass.
"So, why do teams pass the ball more if they aren't gaining more yards per pass? Innovations on offense and rule changes have encouraged coaches to call more passing plays. The riskiness of passing – the standard deviation – has gone down. These rules mean fewer interceptions and fewer sacks. You can't figure out why this has happened by looking at the average gain because it has remained constant. You need to look at the spread – the standard deviation."
While he was finishing a Ph.D. at the University of North Carolina at Chapel Hill, Barreto had two offers for a faculty position: a large state university and Wabash College. Much to his graduate placement adviser's chagrin, he chose the latter.
"When I took that job, my adviser was disappointed," he says. "I did want to do research, but I really wanted to be a teacher. I wanted to be at a small school."
At Wabash, Barreto ran into his first significant teaching obstacle. His education was in the history of economics, an area that gave him broad exposure to the discipline, but was not particularly helpful for breaking down complex mathematical models for his students.
Barreto began to look for new ways to present math-heavy subject matter in a clear way. He and Wabash colleague Frank M. Howland collaborated on a project that became Introductory Econometrics, a textbook filled with examples that use Microsoft Excel.

"Econometrics is a very complicated subject," Barreto says. "It uses words such as 'heteroskedasticity' – words that don't make sense to most people. I think most of the time the subject is taught by people who can read and speak mathematics and think very abstractly. It turns out that most people aren't like that. My main pedagogical principle is to stop being so abstract and be as concrete and visual as I can be."
Using Excel, an economic model was no longer a flat mathematical equation. It became an interactive puzzle, visualized in real time. And the result was that his students learned their material – and more.
"The lessons we created use Excel at a level a couple notches higher than most people even know exist," Barreto says. "A lot of my students write me back and say they're a god where they work because of that."
His second book, Intermediate Microeconomics with Microsoft Excel, applies the same the hands-on approach to teaching students at a higher level.
Barreto joined DePauw's faculty in 2008 after more than two decades at Wabash. Coming to DePauw from the University's gridiron rival raised some important questions leading up to Monon Bell weekend.
"Several of my students here asked me who I was going to cheer for," Barreto says. "I didn't go to the game, so I didn't have to commit one way or the other. I told one football player, 'Oh come on, you guys have won two years in a row, let Wabash win.' He was having none of that."
During Winter Term in January 2010, Barreto is putting a new spin on a business simulation game he managed at Wabash. The Wabash program, Opportunities to Learn About Business (OLAB), pits teams of high school students against each other as competing businesses. The teams learn to manage all aspects of their business – from accounting to marketing – and attempt overcome a variety of challenges along the way. The structure of DePauw's Winter Term gave Barreto and Michelle T. Villinski, associate professor of economics and management, an opportunity to adapt the game to a college environment for the first time.

"Change, I think, is really good, and that's been part of my teaching philosophy," Barreto says. "I really like trying different things, which is probably why I like the uncertainty of what we're doing in our Winter Term course. The change of coming to DePauw was really exciting because it's a new place for me. I have been pleased, however, to see teaching emphasized and that I am able to get to know and help my students."
Back