Brad Stevens '99 and J.P. Hanlon '92 Among Indy's 'Forty Under 40'
February 2, 2010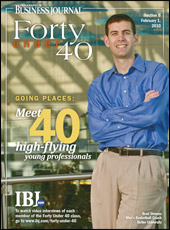 February 2, 2010, Greencastle, Ind. — Two graduates of DePauw University -- James Patrick Hanlon '92, partner with Baker & Daniels LLP, and Brad Stevens '99, head men's basketball coach at Butler University -- are among the Indianapolis Business Journal's "Forty Under 40." According to the publication, "From hundreds of candidates, IBJ has chosen 40 budding superstars from the central Indiana business community who are really going places ... This group of high-flying achievers is a diverse bunch, with careers ranging from entrepreneur to corporate executive, from attorney to not-for-profit leader, and from banker to Division I college basketball coach. Their influence likely will be felt for years to come."
Stevens appears on the cover of the special supplement, which appears in this week's issue of the Journal.
"J.P. Hanlon has worked on both sides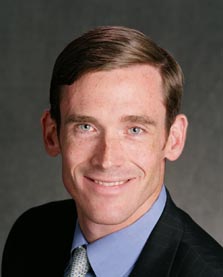 of the justice system," notes IBJ. "Either way, he is passionate about upholding the rule of law. In his current role as a white-collar criminal defense attorney, he doesn't care that his work isn't necessarily the most admired."
Hanlon tells the publication, "A lot of people do view criminal defense as an unpopular cause, but they will find their views change very quickly when a family member or friend is all of the sudden being accused." He continues, "The motivation for me was the opportunity to help people when they are at the worst time in their lives, with the entire weight and force of the government bearing down against them. The burden is always 100 percent on the government ... and the government isn't always right."
The text points out, "For five years, Hanlon served as a government prosecutor in the U.S. Attorney's Indianapolis office. He won 15 cases during that time as he prosecuted a wide range of civil and criminal cases for fraud, embezzlement and identity theft. At Baker & Daniels since 2006, he founded and leads the White Collar Criminal Defense practice group."
Stevens, who worked in the marketing department of Eli Lilly & Co. after graduating from DePauw, left the pharmaceutical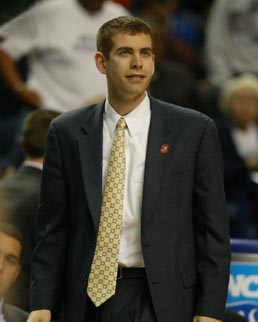 company when his heart told him that he needed to be in college athletics. He went from a volunteer position, to coordinator of basketball operations, to assistant coach, and then in 2007, at age 30, was given the head coaching job when Todd Lickliter left to take the reins at the University of Iowa.
"I don't think I ever would have dreamed when I left Lilly seven years before that it would happen that quickly," Stevens says. "It's more a result of who I've been around-great mentors and great people."
IBJ notes, "In his first year of coaching, only six or seven years of age separated Stevens from his oldest players. Being young, and a former collegiate player himself, at DePauw University, has given him a unique rapport with team members. 'I do try to draw upon my experience as a player. It's fairly fresh in my mind,' he said."
Katie Maurer writes, "At press time, Butler was 14-4 and ranked No. 20 in the ESPN/USA Today coaches' poll. And winning is something he has gotten used to. Stevens became the first coach in the school's history to lead the team to 30 wins, and is fourth all time among Division I coaches for first-year wins.
"I've got such great people around me, not only in this program, but family and friends," Stevens states. "They do a great job of helping me keep perspective," he said, adding, "It's been a very good ride."
Read more at IBJ.com.
Back