Former Prof. Elizabeth Christman Dies at Age 96
February 5, 2010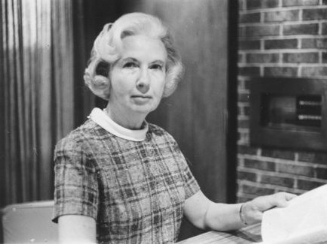 February 5, 2010, Greencastle, Ind. — Elizabeth A. Christman, associate professor emeritus of American Studies at the University of Notre Dame and a member of the DePauw University faculty from 1969 to 1976, died Wednesday in St. Louis. She was 96 years old.
Born January 18, 1914 in St. Louis, Christman graduated from Webster College, then worked as a secretary and freelance writer. During World War II, Christman joined the WAVES, an all-women division of the U.S. Navy, and worked in wartime Washington, D.C., as an editorial research officer.

After the war, Christman moved to New York and was hired at the literary agency of Harold Ober Associates, where she worked for more than two decades while continuing to write on the side. In the 1960s, with an eye toward becoming a college professor, she began working on her master's
degree with night classes at New York University.
In 1969 at age 55, when she joined the DePauw faculty as assistant professor of English. She was later promoted to associate professor of English and served as secretary of the faculty.
In her 2004 book, Twenty Septembers: A Memoir of Teaching, Christman recalled interviewing for an opening in DePauw's English department with Dr. Fred Bergmann, who then headed the department. "We seemed to hit it off well. He was interested in my background as a literary agent. He understood what I had been doing and thought it would be relevant to the teaching of writing in college. DePauw had, and has, a strong writing program, and prides itself on turning out good writers. Dr. Bergmann accepted the fact that I didn't yet have a Ph.D., but wanted me to assure him that I would go ahead and get it if DePauw hired me. He didn't seem dismayed by the fact that I was fifty-five years old, but of course he knew that in advance from my application."
Christman got the job and arrived in Greencastle for the fall 1969 semester. "I loved my courses and I loved my students," she recalled in her memoir. "In the beginning, my approach to students and to teaching was thoroughly romantic.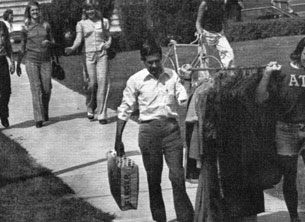 I thought of my new career as an exalted calling in which I would open young minds to the joys of reading, train young people in clear thinking and lucid writing, and perhaps even reinforce their native idealism by helping them articulate it. Though this romanticism has been greatly tempered during sixteen years of teaching, I wouldn't say even now that it was altogether a wrong attitude. Some measure of cynicism about the young, and some measure of skepticism about her own influence on them, must leaven a teacher's enthusiasm. But all the really good teachers I have known have loved students and have believed in their own ability to teach. When a teacher feels contempt for the young, and cannot smile at their flightiness, their poses, their velleities, and even their falsities, that teacher cannot teach them much. She must have hopes for them so that they can have hopes for themselves."
Christman added, "September in campus life is the new year, and it feels full of resolution and promise. Each September I relished this beginning more keenly, realizing that there couldn't be many more for me. Having found my true calling late in life, I
have nothing but gratitude for the universities who took a chance on me and the colleagues who welcomed me into their fortunate circles."
Christman spent her summers teaching graduate students at Notre Dame, and joined that University's faculty full-time in 1976. At Notre Dame, "She started teaching a book publishing course, which became Juniper Press, a student-run publishing venture," notes the South Bend Tribune. "Each year, Christman's class would seek out manuscripts, sign a contract with the author and go through the steps of editing, producing and selling the books."
Elizabeth Christmas held master's and doctoral degrees from New York University. She also authored the books A Nice Italian Girl (which later became a TV movie) and Ruined for Life.
Read more here.
Back