Golf Coach Vince Lazar Recalls Spring Break "Boot Camp"
March 30, 2010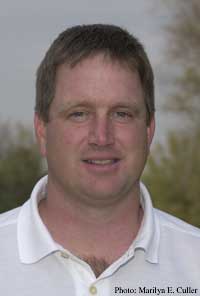 March 30, 2010, Greencastle, Ind. — In his column in today's edition of North Carolina's Jacksonville Daily News, Rick Scoppe offers a "pithy and humorous" quote from Vince Lazar, head men's and women's golf coach at DePauw University. At last weekend's 39th Intercollegiate Golf Tournament at Camp Lejeune, writes Scoppe, Lazar "discussed his love and appreciation for a tournament his program has competed in for 11 of the past 12 years."
"This is our spring break," Lazar tells the newspaper. "I always say we don't have a spring break. We have spring training, and we go to boot camp at Camp Lejeune. We love it."
Methodist, the top-ranked NCAA Division III men's team, won the weekend tournament with a 7-under 849. DePauw finished 12th with a total score of 889.
Read the complete column here, and visit the official online home of Tiger athletics.
Back