Putnam County Empty Bowls
April 22, 2010
Last fall, Gleason O. Wilson '10 saw a flier on campus announcing a new art course to be offered this spring: Community-based Art Projects. The course description caught his eye, as did the words "no art experience required." Wilson is a chemistry major and religious studies minor.


The new course is the result of an innovative idea by Meredith K. Brickell, assistant professor of art. Last year she applied for and received a $2,500 Scholarship of Engagement Faculty Grant from Indiana Campus Compact to support course development. The course goal is to connect DePauw students and the University to Putnam County residents through collaborative, public art.

It was the community aspect of the course description that attracted Wilson, as well as the opportunity to do something for the Greencastle community. "I really like the area around here. I've spent two summers on campus doing research," Wilson says. "It was like I never went home. DePauw has been my home away from home."

The course centers on community-based art discussions and projects. The students are currently engaged in the most comprehensive project of this semester: Putnam County Empty Bowls: Coming Together to Combat Hunger.

Brickell's inspiration for the project came from the Empty Bowls framework established by the Image/Render Group. It's a nonprofit organization dedicated to positive and lasting social change through the arts, education and projects that help build community.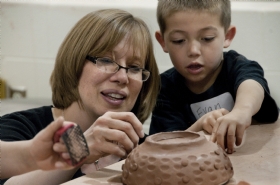 The premise of Putnam County Empty Bowls is to support the fight against hunger in Putnam County. The project is two-fold. First, community members were invited to make a ceramic bowl as a piece of art to represent hunger. The DePauw students held five bowl-making workshops on campus and in Bainbridge. Participation was open to the public.

The second phase of the project is a culminating community picnic on Saturday, May 8 from 11 a.m. to 2 p.m. in Robe Ann Park in Greencastle. The community is invited to join friends and neighbors for a meal served in the handmade bowls. Attendees will take home a bowl to keep as a reminder of the hunger issues that exist in our communities. Making a bowl prior to the picnic is not a requirement to attend.

The picnic is free and open to the public, but cash and non-perishable food donations are appreciated and will help support the Bainbridge Food Pantry and United Way of Putnam County food and shelter organizations.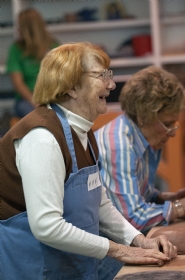 "We are getting a great response from the community," Brickell says. "Lots of people are excited to be invited to campus and to be in involved in an art project. Many people are interested in learning how to make bowls, and many others are excited to be participating in a community project.
"It's important to acknowledge the tremendous support we've received from the United Way of Putnam County," Brickell says. "Last fall David English, the executive director, agreed to partner with us on this project. He has been a tremendous help. He knows many people in the area and has helped facilitate relationships that would otherwise have been difficult to establish in one semester."

Wilson, who plans to pursue a doctoral degree in inorganic chemistry at the University of Cincinnati beginning in the fall, is glad to have had this experience. "The students in the class understand the greater cause of actually helping out – not just getting a grade," he says.

"We're not coming into this project with a naive thought that we're going to end hunger. It's to raise awareness – awareness of the problem, and to bring people together. We're all a part of this," Wilson says. "It's not just one person trying to help, or one group, but a collective group. Together, we can at least get the message out there and get more people involved."

Students in the Community-based Art Projects class are also coordinating another project titled: About Where We Live. The project is an initiative to solicit stories, memories, anecdotes and feelings about this area and region from those who live, work and learn here. The students define "here" as Greencastle, the DePauw campus, Putnam County and/or central Indiana.

Brickell's students are encouraging community members to visit their Web site by clicking here to share something they know or have experienced in their communities.
Back