Small School, Big Difference
April 26, 2010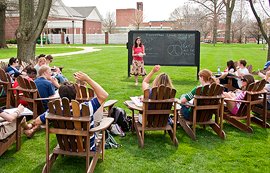 Associate Director of Admission Keith B. Stanford was on a recruiting trip to California last fall when one high schooler's question caught him by surprise. This student had done his homework.
Stanford remembers the moment well: "As I was going through my presentation, he stopped me and said, 'I noticed there was an article in The New York Times about [DePauw University President] Brian Casey. Is he really that accessible, and does that mean the professors at DePauw are as well?'"
The Times ran two stories in Oct. 2009 -- one in the New York edition of the paper and another in an education blog -- depicting DePauw as a place where students have access at all levels of the University, from the faculty up to the president.
"It's something that I promote all the time to students and parents," Stanford says. "When you come here, you're going to be a part of a family -- part of a community where anyone can be successful. Professors here are willing to help you develop not only intellectually, but also as a person."
Stanford's message works. Ask a group of students why they chose to attend DePauw, and they will almost unanimously credit the University's close-knit atmosphere, made possible by a 10:1 student-to-faculty ratio. Looking beyond that number, DePauw isn't simply a large university in miniature. Instead, students discover a campus where they have ownership of their own education.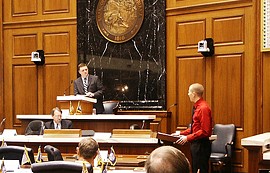 One of the best examples of student engagement driving academic programming is the DePauw Environmental Policy Project (DEPP), formed in 2008 by students and faculty members who didn't believe that an invisible barrier separated a university from the "real world."
"The role of the faculty and administration is to get students to believe that they can make a real difference on real problems, especially at the local and state level, and to give them overall guidance on how to do that," says Kelsey Kauffman, assistant professor of University studies and DEPP faculty adviser. "Above all, however, a program like DEPP has to be genuinely student-centered and student-led."
In DEPP, students delve into research on an environmental issue of their choosing, while faculty members serve as advisers to their projects. The students' findings aren't submitted for a final grade -- rather, they are presented in testimony before the Indiana General Assembly in order to influence legislation. During the 2009 legislative session, DEPP members helped pass a bill that created a fund for geothermal heating systems in Indiana public schools.
Even when projects don't result in a new or changed law, members become legitimate experts on environmental issues after months of intense study with their peers. That experience can be used to start a career, or as a foundation for further advocacy. There are other, immediate benefits, as well.
"When you engage in these sorts of adventures, you're more like a family," Kauffman says. "It's an extraordinary bond."
Closing the Loop
Junior Callie B. Boehme finishes her laps in the Lilly Center pool long before most students are awake. It's a hard schedule to maintain, but for two mornings a week she enjoys support (and a dose of friendly competition) from a former collegiate swimmer who can keep up with her pace. In a time and place not long ago, President Casey had captained the men's swimming team at Notre Dame University.
"Every morning, he will ask how I am feeling in the water, make comments about my technique and give me pointers on how to improve my strokes," Boehme says. "It seems as if he's just another member of the swim team coming in for another workout. It sometimes slips my mind that I am swimming with the University's president."
Boehme's story is unique, but it isn't a rare occurrence. Paths are meant to cross at a small liberal arts college.
"DePauw students can't really hide for four years here," says Associate Professor of English Gregory L. Schwipps. Schwipps knows from personal experience -- both as an author and as a 1995 graduate of DePauw -- the importance of clear communication.
"In some class, in some group or major, someone is going to pull them out," Schwipps says. "Each student is going to have to talk. Each student is going to have to learn how to explain himself or herself. Students here succeed because they know how to interact with others, because people like being around them and like working with them. President Casey is a reflection of that."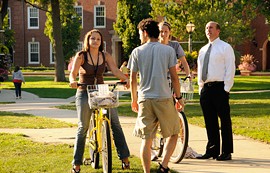 Not long ago, a president's interaction with the student body would have been strictly one-sided. Senior Luke C. Beasley, a history major, wrote his senior thesis on the political climate at DePauw during the Vietnam War era.
"The model for education at the time was much more conservative," Beasley says. "Students were in college to learn, and if they didn't like something they were free to leave. Instead of an overbearing approach, I think President Casey has tried to build a relationship based on trust. If we fail on our end, we'll have failed our own expectations of ourselves."
Today more than ever, there is dialogue between the administration and the students of DePauw. As DePauw evolves as small liberal arts college, this openness is the next logical step.
"President Casey knows his vision for DePauw relies on engaging the faculty and the students," Beasley says. "We have to share his ambition to make this school a special place -- not just in Indiana, but nationally."
Back