John Kniesly '73 Gives People with Disabilities "Opportunity to be Active"
June 11, 2010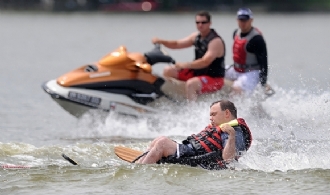 June 11, 2010, Greencastle, Ind. — About 50 individuals "with physical disabilities have an opportunity to be active thanks to the Rehabilitation Hospital of Indiana Sports Program's annual water ski clinic," reports the Indianapolis Star. The clinics are organized by John Kniesly, a 1973 graduate of DePauw University. (photo of water ski clinic at Morse Reservoir in Cicero, Indiana, by Matt Detrich/Indianapolis Star)
"The whole recreation program is to help somebody who has had something taken away realize that there are participation opportunities again," Kniesly tells the newspaper.
"Kniesly managed the U.S. Disabled Water Ski Team in 2007 and tries to connect people who attend the clinic with local skiing clubs or organizations," writes Evan Shields. "Kniesly said at least 30 volunteers are on hand, and some have been helping with the event for 10 to 15 years. The clinic has been running since 1994 ... Kniesly said the clinic is expensive to put on, but most costs are covered by donations. RHI has six skis that cost more than $1,200 each and 15 cages that cost more than $800. Two local marinas let RHI borrow boats."
Access the complete article at IndyStar.com.
Back