Our Backyard
July 1, 2010
When Doug Cox started working for DePauw, the abandoned quarry just west of campus was, as he says, "quite a headache." Hanson Aggregates closed its operations there in 1977, and nature and adventurers sneaked back onto the land in the decades that followed. Covering nearly 500 acres, the single property manager could do little about the latter. In sports terms, a football field is only a little bit larger than one acre, but even seven referees manage to miss pieces of the action.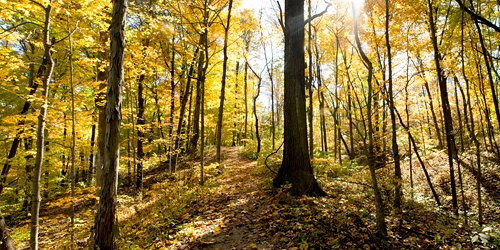 Still, not every incursion went unnoticed. Cox -- then responsible for public safety on campus -- often received phone calls that a few students, cooler and camping gear in tow, had made the trip over the fence and into the quarry bottom. To be fair, students only made up a small portion of visitors to the quarry. Local youth, ATV enthusiasts and horseback riders were regulars there, but news of their trespasses didn't wake Cox in the middle of the night.
That all changed after DePauw acquired the land in 2003. The quarry and the surrounding area became the DePauw Nature Park, the trails carved by tires and hooves became scenic hiking paths, and Cox became the park's director in 2007, charged with bringing campus and community visitors to a place that was previously off limits.

"I like being around on Alumni Reunion Weekend," Cox says. "A number of people who come to see the park say, 'We used to come out here and build campfires.' I've heard some interesting stories."
Of course, most alumni from that time weren't as bold. A 1994 graduate of DePauw, Amy Kossak Sorrells' first trip to the quarry this spring was better late than never. The visit inspired her column in the Zionsville (Ind.) Times Sentinel, and even carried over to poetry on her personal blog.
"The part that takes my breath away is how nature overcomes what man does to it," Sorrells says. "The eastern junipers along the bottom of the quarry grow there because they are resilient in places where other plants falter and die. I realized that just like in nature, when things in life destroy or impede or shatter parts of the soul, there are still resilient parts within us that can overcome those broken places. The Nature Park represents one glorious example of how life and hope can overcome the most desolate and even desperate circumstances."
Open Campus

As the park becomes more popular as an escape into nature, visitors are also getting a clear view into DePauw's largest classroom. When school is in session, it's common for park visitors to stumble upon students and professors lost in their work.
"The community always wants to understand how the University is using the park," Cox says. "When the park opened, it had a science research identity, but since then a tremendous number of art projects have been worked on here."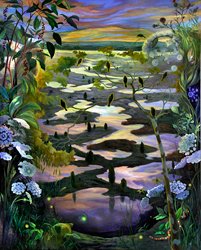 One of the most recognized pieces of art to come from the Nature Park is a painting by Barbara Fields Timm, an assistant professor of art. "Light Puddles" (right) received the top award at the 2008 Wabash Valley Juried Exhibition, and it appeared on the spring 2009 cover of DePauw Magazine.
"There's almost always somebody from the art department here drawing, taking photographs or sculpting," Cox says.
Of the dozens of ongoing research projects at the park, Professor of Biology Wade N. Hazel's mesh bags generate some of the most curiosity. Hanging from trees along the trails, the bags are used to collect butterfly pupae. Understanding his research (photo gallery) requires a little bit of Butterfly 101.
It should come as no surprise that butterflies develop from caterpillars. After binging on the leaves of its favorite plant, a fat and happy caterpillar forms a chrysalis -- an elegant word for butterfly pupa -- to begin the metamorphosis into its adult, winged phase. A butterfly's life, from egg to adult, lasts only a few months, so many generations are born over the span of a single year.
But what happens in the winter, when temperatures are too cold for a butterfly to survive? The answer, says Hazel, is a clever feat of adaptation called diapause that allows butterflies to live through months of freezing weather.
"When they enter diapause, their metabolism slows, and they produce chemicals that prevent their tissues from freezing," Hazel says. "They may go into diapause in September and not come out until April or May."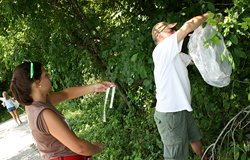 Hazel and his students are trying to figure out if butterflies enter diapause based on the temperature in previous years -- in other words, whether butterflies have some sort of internal calendar, passed on through previous generations.
Access to the Nature Park is one of the reasons Hazel and his students are even able to do this research. All the local species of swallowtail butterflies that they work with are abundant in the park, including the giant swallowtail, the largest species of butterfly in North America.
"The Nature Park has the largest local density of giant swallowtails of any place I've seen in my life," Hazel says.
A Place People Go
Soon after construction finished on the park's most prominent projects -- including The Janet Prindle Institute for Ethics, the first building in Indiana to earn a gold rating for energy efficiency and environmental design from the U.S. Green Building Council -- the park transformed from quiet nature reserve into a hub of community activity.

"One of the things that really evolved after Prindle opened is that people had a look at the park and decided we were finished building, so they could go ahead and use it," Cox says. "There's been an overwhelming response from the community in the creative ways they want to use the park, and that's been fun for me as an event planner."

The camping areas and hiking trails draw daily visitors -- Cox hears from them if he and his crew are late to open the gates -- and the Prindle Center hosts conferences year-round, but the park's natural amphitheatre may be its biggest draw.

Folk singer Carrie Newcomer's August 2009 concert at the amphitheatre was the first event to stretch the limits of vehicle parking capacity. Hundreds of visitors again returned in April for a presentation by Take Flight's Mark Loring Booth, who taught the crowd about his collection of birds of prey. That event helped to grow the Nature Park's Facebook page, which Cox says has since become the go-to community resource for upcoming events.
One of the amphitheatre's most successful functions has been completely unexpected. Not a week goes by without someone inquiring about using it for a wedding. The weddings there have ranged from simple ceremonies around the stage area, to large celebrations with sprawling tents -- Indiana Governor Mitch Daniels attended one of those last summer.

"We never thought we'd be in the wedding business, but we probably have about a dozen weddings scheduled or impromptu simple ceremonies this season," Cox says.
Back