Catherine Neville '95 Launches New Magazine, Feast
July 10, 2010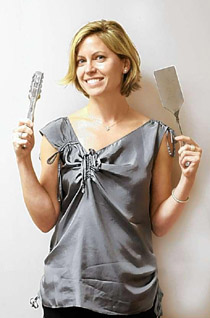 July 10, 2010, Greencastle, Ind. — Catherine A. Neville, a 1995 graduate of DePauw University, is launching a new magazine, Feast, which will be available beginning July 27 in 500 locations in the St. Louis area, including grocery stores. "Each Feast, a full-color, large-format magazine, will include lifestyle features sharing and exploring ideas -- from dining room furniture to homemade cocktails, grilled fish to homegrown tomatoes -- that readers can use to enhance their own homes," notes an article in the Suburban Journals. (photo at left by Rick Graefe)
"We are really doing home cooking and elements of kitchen design," says Neville, who previously founded Sauce magazine. "We'll still have local chefs for stories. After all, they are the beating heart of the industry, but we want them to not just provide a fabulous dinner on a Saturday night, but to inspire cooking it at home."
The story points out that Neville "studied writing and art history at DePauw University" and that, with a father in the Air Force, her family lived in three states and even in Turkey when she was growing up.
"Moving from place to place gave her a keen eye and tasteful appreciation for food, precedent for her entrepreneurial spirit in Feast," writes Janice Denham. "Her dad's official roles led to parties and entertaining, where she absorbed the cooking atmosphere, but often served as "hat check girl." Neville became his able assistant testing steaks at the grill, where he added his 'secret' sauce."
Read the complete text by clicking here.
Catherine Neville serves on the advisory board for DePauw's 361º Program. In 2002, she was named one of the St. Louis Business Journal's "30 Under 30." Details can be found in this previous story.
Back