Professor Art Evans
July 13, 2010
In both his teaching and research, Professor of Modern Languages Arthur "Art" Evans has always been attracted to the alien "other."
As a child, Evans was exposed to two different cultures: his father, a Massachusetts Yankee, worked in the construction trade, and his mother, from southeastern North Carolina, came from a tobacco farming family.
"I grew up having to adapt to two very different kinds of accents and cultural settings," Evans recalls. "As a result, I developed some ability for linguistic mimicry and a taste for cross-cultural experiences."
His reading preferences as a young man also tended to gravitate toward the unusual and unknown. Giants of fantasy and science fiction such as J. R. R. Tolkien, Edgar Rice Burroughs, H.G. Wells, Andre Norton and Robert Heinlein captured his imagination.
"I remember reading my first Jules Verne story -- Journey to the Center of the Earth -- in a Classic Illustrated comic book when I was about 10 or 11 years old. From that moment on, I was hooked," Evans says.
After briefly studying pre-med at Tufts University, Evans eventually majored in French. He went on to teach high-school French in Montpelier, Vt., and became interested in the Surrealist author and filmmaker Jean Cocteau, publishing a book on his cinema in 1977. Several years later, as a doctoral student at Columbia University, Evans decided to write his Ph.D. dissertation on French author Jules Verne -- a bold move for a student of literature at the time.
"Both Surrealism and science fiction were considered by most in Academe to be non-literary and unworthy of serious study," Evans says. "I was one of a new generation of scholars who were challenging this narrow idea of what constituted the literary canon."
Evans points out that Verne remains one of the most translated authors in the world, "but, for some critics and literary historians, any author who is 'popular' automatically fails the litmus-test of respectability."
"Until the late 1980s, there were almost no decent studies of Jules Verne available in English because he was viewed as 'merely a sci-fi author for children,'" Evans explains.
After coming to DePauw in 1985, Evans published his dissertation, Jules Verne Rediscovered. It won the prestigious Eaton Award and opened the door to a host of new English-language studies on the visionary French author. In 1997 Evans co-wrote an article on Jules Verne that appeared in Scientific American and, over the past decade, has published several additional studies on him and other early French writers of science fiction. In 2002 Forbes Magazine referred to Evans as "the most prominent Verne scholar in the United States."
In addition to teaching French and a seminar on science fiction in the Honor Scholar program, Evans is also managing editor of the scholarly journal Science Fiction Studies (SFS). Founded in 1973 and recognized as the preeminent journal in its field, SFS has been based at DePauw since 1991. Professor of English Istvan Csicsery-Ronay is also a co-editor.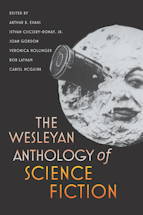 This July, Wesleyan University Press is publishing The Wesleyan Anthology of Science Fiction, which Evans describes as "another labor of love" by the editors of SFS. The royalties and revenue from the Wesleyan Anthology will go to support SFS. The book received a starred review in Publisher's Weekly, which said that "no institutional library should be without this truly phenomenal volume."
"The anthologies that are currently on the market don't go back very far, and the introductions and annotations are often not very good," Evans says. "We're hopeful that the Wesleyan Anthology will become the 'gold standard' for university courses on science fiction around the country."
Reflecting on his interests, Evans believes that foreign languages and science fiction have much in common.
"Science fiction is a cultural shock absorber that allows you to confront difference in a positive way," he says. "It forces you to come to grips with the odd, the unusual. Learning a foreign language is also about how to adapt to cultural difference. They both focus on the alien. They both give us tools to negotiate change."
Back