Rebecca Skloot to Examine an Immortal Life and its Implications in September 9 Ubben Lecture
August 10, 2010
August 10, 2010, Greencastle, Ind. — Rebecca Skloot's powerful book, The Immortal Life of Henrietta Lacks, is a national bestseller that sits at the intersection of multiple disciplines and interests -- including science, ethics, research, race, class and history. On Thursday, September 9, Skloot will visit DePauw University as a guest of the Timothy and Sharon Ubben Lecture Series. The 7:30 p.m. speech will take place in Moore Theatre, Green Center for the Performing Arts. Like all Ubben Lectures, the program is presented free of admission charge and is open to the public.
Skloot will be available to sign books following her speech.
Rebecca Skloot is a science writer whose work has appeared in the New York Times Magazine, O, The Oprah Magazine, Discover, Columbia Journalism Review, and many other publications. She is also a contributing editor at Popular Science magazine, and has worked as a correspondent for NPR's RadioLab and PBS' NOVA ScienceNOW.
The Immortal Life of Henrietta Lacks, her debut book, took more than a decade to research and write, and instantly became a New York Times best-seller (it has remained on the list since its release earlier this year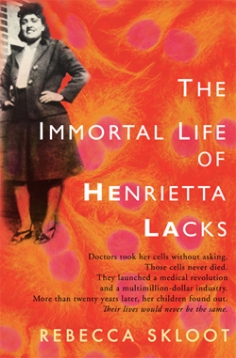 and is currently #7) and was recently named one of the best books of the first half of 2010 by Amazon.com. An upcoming movie version will be produced by Oprah Winfrey and Alan Ball (creator and executive producer of TV's True Blood) for HBO.
Skloot's book tells the story of a poor Southern tobacco farmer, who suffered from cervical cancer. Samples of Henrietta Lacks' tissue -- taken without her knowledge -- "turned out to provide one of the holy grails of mid-century biology: Human cells that could survive -- even thrive -- in the lab," writes Skloot.
Named "HeLa" (short for Henrietta Lacks), the first "immortal" human cells grown in culture are still alive today, nearly sixty years after Ms. Lacks died and was buried in an unmarked grave. In fact, an estimated 50 million metric tons of HeLa cells have been grown. HeLa cells were vital in developing the polio vaccine; uncovered secrets of cancer, viruses, and the effects of the atom bomb; helped lead to important advances like in vitro fertilization, cloning, and gene mapping; were sent into space and have been bought and sold by the billions.
"What they did with her cells saved millions and millions of lives," Skloot told the Buffalo News. "[Johns] Hopkins had been taking samples from any patient who came in with cervical cancer, trying to grow them, and there was something special about hers that made them grow when others didn't."
Though the cells taken from Lacks launched a multimillion-dollar industry that sells
human biological materials, her family never saw any of the profit, and to this day can't afford health insurance.
"Skloot, an accomplished science journalist, became curious about Lacks at age 16 when a biology instructor shared her name and skin color but nothing else," wrote Eric Roston in a Washington Post review. "Skloot's book is the result of a decade of research that took her to a Lacks family cemetery where black descendants are buried atop white slaveholder relatives, to depressed Baltimore neighborhoods, to Johns Hopkins's world-class medical research center and to Crownsville Hospital Center in Maryland, formerly the Hospital for the Negro Insane ... This book, labeled 'science -- cultural studies,' should be treated as a work of American history. It's a deftly crafted investigation of a social wrong committed by the medical establishment, as well as the scientific and medical miracles to which it led. Skloot's compassionate account can be the first step toward recognition, justice and healing."
Publishers Weekly called the book a "remarkable debut," labeling Skloot's work a "multilayered story about faith, science, journalism, and grace ... Skloot tells a rich, resonant tale of modern science, the wonders it can perform and how easily it can exploit society's most vulnerable people."
"I put down Rebecca Skloot's first book, The Immortal Life of Henrietta Lacks, more than once," stated New York Times reviewer Dwight Garner. "Ten times, probably. Once to poke the fire. Once to silence a pinging BlackBerry. And eight times to chase my wife and assorted visitors around the
house, to tell them I was holding one of the most graceful and moving nonfiction books I've read in a very long time." Skloot's nonfiction work is "a thorny and provocative book about cancer, racism, scientific ethics and crippling poverty," he added. "More than 10 years in the making, it feels like the book Ms. Skloot was born to write. It signals the arrival of a raw but quite real talent."
The Immortal Life of Henrietta Lacks is "a fascinating, harrowing and necessary book," adds the UK's Mail & Guardian.
In her Ubben Lecture at DePauw, Skloot will demonstrate that the story of the Lacks family -- past and present -- is inextricably connected to the dark history of experimentation on African Americans, the birth of bioethics, and the legal battles over whether we control the stuff we are made of, and the current debates over access to healthcare. Skloot also explores a wide spectrum of issues related to communication, research, legislation and policy in today's modern scientific community. She urges audiences to recognize the importance of adopting best practices in research and medicine, and discusses the ways in which effective communications can be used to bridge the gap between science and the general public, and across cultures of all kinds.
Skloot is the founder and president of the Henrietta Lacks Foundation, which is, among other things, dedicated to providing the
Lacks family aid in covering the cost of health insurance, giving those who have benefited from HeLa cells a way to show thanks to Ms. Lacks and her family. The foundation also hopes to offer assistance to other African Americans in need who are pursuing education in science and medicine.
Skloot served for eight years on the board of directors of the National Book Critics Circle. She has been featured on numerous television shows, including CBS Sunday Morning, the Colbert Report, FOX Business News and others. Her book was named a Barnes and Noble Discover Great New Writers Pick for Spring 2010, and received widespread critical acclaim.
Rebecca Skloot holds a B.S. in biological sciences and an M.F.A. in creative nonfiction, with graduate training in bioethics. She financed her degrees by working in emergency rooms, neurology labs, veterinary morgues and martini bars. She has taught in the creative writing programs at the University of Memphis and the University of Pittsburgh; she's also taught science journalism at New York University.
Established in 1986 through the generous
support of 1958 DePauw graduates Timothy H. and Sharon Williams Ubben, the Ubben Lecture Series was designed to "bring the world to Greencastle" and presents events which are available for students, faculty, staff, alumni and the local community to enjoy. Previous guests have included Tony Blair, Benazir Bhutto, Spike Lee, F.W. de Klerk, Margaret Thatcher, John Major, Jesse Jackson, Howard Dean and Karl Rove, Ambassador L. Paul Bremer, Greg Mortenson, Todd Rundgren, Ross Perot, Mitch Albom, ice cream entrepreneurs Ben Cohen & Jerry Greenfield, General Wesley Clark, Naomi Wolf, David Plouffe, Paul Volcker, Doris Kearns Goodwin, Barbara Bush, Ralph Nader, Frank Warren, Harry Belafonte, Jane Pauley, Mike Krzyzewski, Eric Schlosser, Julian Bond, E.O. Wilson, Steven D. Levitt, Liz Murray, Jason Reitman, David McCullough, Paul Rusesabagina, Gwen Ifill, Brian Mulroney, Ken Burns, George Will, Sister Helen Prejean, William Bennett and Mary Frances Berry. (above: Peyton Manning with Tim and Sharon Ubben; October 26, 2004)
To view a complete roster of Ubben Lecturers -- which includes links to video clips and news stories -- click here.
Back