Legendary Decorator Mark Hampton '62 Recalled in New York Observer
July 28, 2010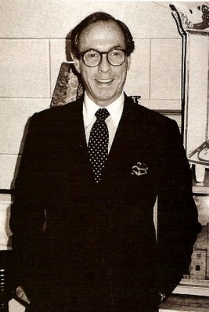 July 28, 2010, Greencastle, Ind. — "At DePauw University, he majored in history and was president of Sigma Chi," notes a New York Observer story on the late Mark I. Hampton Jr., the celebrated interior decorator and 1962 graduate of DePauw. "Junior year he attended the London School of Economics. Before going abroad, he read Nancy Mitford's Noblesse Oblige, learned to say curtains, not drapes, and the difference between 'U' and 'Non-U.' After a friend suggested he work part-time, he dashed off some sketches, dropped them off at David Hicks' office, and became the soon-to-be-legendary decorator's assistant."
George Gurley writes, "According to those who knew him well, Mark was a scholar, a talented cook, a dancer, a draftsman, a lyricist, a gardener, a napper, a piano and drum player, a generous mentor, a multitasker (way before the term was coined), an expert at conversation and working a room, a Renaissance man with 'an unparalleled knowledge of the decorative arts' (Paige Rense), 'a truly superior person' (Glenn Bernbaum), 'the last of the twentieth-century gentleman' (William Norwich) and 'the most amusing, cleverest, nicest, most cultured,
kindest, funniest guy in New York' (Liz Smith)."
The New York Times called Hampton "an icon of American Style." He began his career working for some of the greatest interior designers of the age and worked for clients such as Brooke Astor, Estée Lauder and Jacqueline Onassis, as well as the White House, Camp David, the Metropolitan Museum of Art, the National Gallery of Art, and the American Academy in Rome. He passed away in 1998.
Read the complete article at the newspaper's Web site.
A book, Mark Hampton: An American Decorator, was published in April and is written by the decorator's widow, Duane.
This summer, Mark Hampton was posthumously inducted into the Plainfield (Indiana) High School Hall of Fame.
Back