Professor Clarissa Peterson
August 13, 2010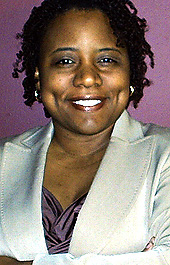 Associate Professor of Political Science Clarissa L. Peterson has always been at the intersection of math and politics. In college, her public policy management coursework focused on precalculus and accounting, and her career probably would have continued on that path had she not been introduced to nonlinear systems -- a way to mathematically model complex interactions.
"I learned that we could, for example, use the pattern of a heartbeat to explain a social phenomenon," Peterson recalls. "I thought, 'Wow, you mean I can create a mathematical model to describe the political world I see?'"
Peterson was hooked -- and still is.
"For me, math is at the heart of disciplines such as political science and sociology," Peterson says. "I'm always trying to bring those two worlds together. Math can help students who want to touch, feel and understand a subject. Numbers are part of our everyday lives, so the more they are a part of the courses we teach, the more students are able to understand The New York Times, or walk into a store and understand the nutritional facts on food packaging. When they say on the news that most Americans think one way or another, we know enough to ask 'What does that actually mean?,' or 'Who conducted this survey?'"
Since coming to DePauw in 1997, Peterson's numerous leadership roles have reflected her dual interests. In addition to being this year's director of the Black Studies program at DePauw, she has served as chair of the political science department, and as the University's associate faculty development coordinator for quantitative reasoning, or "Q czar." Off campus, Peterson works with the College Board to develop standardized tests such as the AP and Praxis exams, and co-chairs the American Political Science Association's (APSA) Committee on the Status of Blacks in the Profession.
"I've chosen very carefully the areas that I've tried to get involved in," Peterson explains. "I always want to make sure that diversity stays important to all of us, and that it's not left out of testing or the curriculum."
As a political scientist interested in American race politics, some of Peterson's most recent research has focused on Barack Obama's 2008 presidential campaign and its similarities to Jesse Jackson's campaign 20 years earlier. Peterson says that most people remember the Jackson of 1984, but his 1988 campaign was noticeably different -- and more successful. For a time, Jackon even led the field of Democratic candidates, until Michael Dukakis, the eventual nominee, surpassed him.
"In 1988 Jackson changed his strategy by toning down issues of race in his campaign," Peterson explains. "I believe that Obama was able to continue the strategy that Jackson adopted. As long as he could avoid the topic of race, people wouldn't simply identify him as a black man, and he was able to do that for the most part."
While Obama's victory has changed some long-held beliefs about the electability of black candidates at the national level, Peterson says her work remains the same.
"Many people have suggested that, because we have a black president, we are now a post-racial society," Peterson says. "I'm disappointed that we use that language to talk about our society, knowing what we do about prisons, poverty and employment."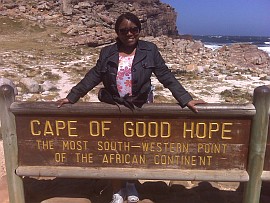 During Winter Term 2009, Peterson took students on a tour of South Africa to study the country's post-Apartheid culture in places such as Soweto, Pretoria and Cape Town. In the wake of the 2008 election, South Africans were eager to talk with the group about American politics.
"It was delightful," Peterson says. "As soon as people noticed that we were Americans, they would start conversations with us."
Peterson felt at home in other ways, too. Expensive boutiques and fast food joints lined the city streets, and, outside of the city centers, a familiar kind of poverty was prevalent.
"If you go to the right part of every major American city, you could see the same thing as what we saw in the some of the shanty towns we visited," Peterson says. "I was surprised because I had expected a totally different kind of poverty."
"When we returned home, I sent the students who'd traveled with me a picture of a run-down home and asked them where they thought it was," Peterson says. "They had no clue that it was in Ohio because it looked just like the places we'd visited. I think my students were able to understand how privileged they really are."
Back