'Changing Scenery' Subject of Art Show Featuring Peggy Luderer '70
August 20, 2010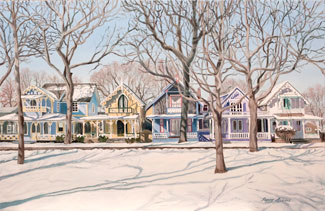 August 20, 2010, Greencastle, Ind. — The art of Peggy (Diaz) Luderer, a 1970 graduate of DePauw University, is featured in a new show, "Changing Scenery", that opened yesterday in Laura Coombs Hills Gallery at the Newburyport Art Association in Massachusetts. Presented jointly with fellow artist Pete Meehan, "Their exhibit is one of more than a dozen that will be featured in the next Newburyport ArtWalk gallery tour set for Saturday in and around downtown," reports the Daily News of Newburyport. (at left: Oak Bluffs Winter Jewels by Peggy Luderer)
The article adds, "'Changing Scenery' reflects the inspiration Meehan and Luderer say they have each found in moving to the region -- with Meehan settling in Seabrook after spending 20 years in the mountains of Maine and Luderer's extensive travels bringing her to West Newbury. The award-winning artists use the architecture and landscape they have encountered as subjects for their paintings."
It notes, "Luderer, whose husband's business has taken her to nine states as well as Switzerland, says moving frequently has provided her with many rich and varied changes of scenery. She especially loves painting architecture as it relates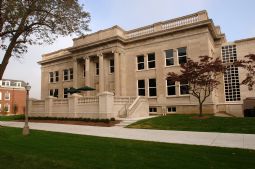 to people and the surrounding landscape. Drawn to the New England light, she says she is inspired by a sunny day and the way objects are defined by the light and shadows. She typically paints from photos she takes, often combining elements from several shots in her compositions. A graduate of DePauw University in Indiana with a bachelor's in art, the mother of three became hooked on watercolors 13 years ago, but also paints in oil. She is currently a docent at the Museum of Fine Arts in Boston and has also worked as an interior decorator. She has won awards at the Newburyport Art Association for the last four years."
Read more at the newspaper's Web site. Further details can be found by clicking here.
Back