One Stop, Endless Opportunities
August 23, 2010
The Memorial Student Union Building lobby offers much more these days than just a space to sit and talk to your friends. It's now a place to explore a plethora of opportunities including study abroad, community service and post-graduate options.

Three key program directors and their staff have moved from three different buildings on campus to one centralized, prime location – the Memorial Student Union Building – creating the newly formed Civic, Global and Professional Opportunities program. Students will have easy access to the directors, staff members and resources in the Opportunity Lounge, located in the lobby.



The trio includes Kathleen "Kate" S. Knaul (at left), director of global opportunities and assistant dean of academic life; Steven V. Langerud (below at right), director of professional opportunities; and Sarah Ryan, director of civic opportunities.

Knaul's former office, the Center for International and Experiential Education, was located in Durham House, which is now the Sigma Nu fraternity house. She and her staff continue to oversee off-campus study, Winter Term programming, and assisting international students and scholars.



Langerud's office and the Career Services Center were located on the third floor of Harrison Hall, and they are now offices for Academic Affairs.

Ryan (below) and her staff were in the Hartman House on Seminary Street and shared the location with the Compton Center for Peace and Justice. That office remains in what was the Hartman House and is joined by the Office of Spiritual Life. In the Union Building, Ryan and her staff will continue to oversee the Bonner Scholar Program,

Winter Term in Service, DePauw Community Service and Alternative Breaks.

The Hartman name has a long history associated with DePauw's civic education and leadership programs. The Fishbowl in the Union Building lobby is now the Hartman Student Intern Office. It is a designated student space for Opportunities program leaders and interns, and they will have 24/7 access to the space.

Knaul, Langerud and Ryan share an office on the second floor, UB 221. Each of them – including other Civic, Global and Professional Opportunities staff members – will take turns assisting students at the counter in the Opportunity Lounge.

You'll meet Rajai R. Bimbo, assistant director of global opportunities; Amanda "Mandy" Brookins Blinn, associate director of global opportunities; Erin A. Mahoney, assistant director of professional opportunities; Jessie R. Scott, Bonner Scholar Program coordinator; Jessica "Jessie" R. Weasner, assistant director of civic opportunities; and Pedar W. Foss, dean of academic life and associate professor of classical studies.

"We'll be at the information counter answering questions and available to students for brief conversations or mini-advising sessions," Ryan says. "The goal is for each of us to be informed about each other's programs because they're our programs collectively. There's a lot that we can learn from each other that will strengthen all of our programs.

"Part of it too, is having one place where students know they can come to learn about these opportunities, and one place where other staff and faculty members can refer students as well.

"It's about helping the students make connections," Ryan says. "Their coursework on campus is not separate from their Winter Term experiences, which are not separate from their summer jobs, which are not separate from their community service. Helping students find the common thread through all of their college experiences so that when they're going to graduate school or do post-graduate service or apply for a job, they'll know how to tell their story."

Patrick J. Legendre '11 is a Bonner Scholar who worked as a student intern this past summer for the civic opportunities office.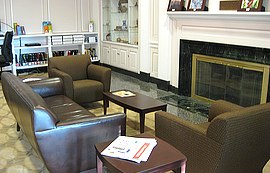 "This space is perfectly located in one of the busiest buildings on campus," he says. "The central location makes it easier for students to get involved and to learn more about the campus. So, we aren't spending our four years here trying to discover what resources are available but are actually using those resources.

"Not only do we have access to the directors, but face-to-face contact, which I think is crucial," Legendre says.

Linda K. Ross is office manager of Civic, Global and Professional Opportunities. She's located front and center in the Opportunity Lounge and acts as a liaison between students and staff members.

"I could not think of a better person to be the face of the office," Legendre says. "Linda Ross takes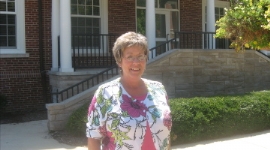 genuine interest in the students and is a delight to be around."

"I prided myself in making eye contact with students and calling them by name when they passed through the Hartman House," Ross (at right) says. "I will continue to greet each student, staff and faculty member, community member, as well as visitors to the Union Building, but learning names will come more slowly."

Foss says that the idea to combine the three offices is the result of a lot of people thinking and working together to bring a community more closely together at the heart of campus.

"These three offices were on the edges of campus, and students could easily avoid them," Foss says. "If they didn't really want to think hard about going off campus or think hard about career services until the last semester of their senior year – when they're panicking – they could pretend that those offices weren't around.

"However, now everything is moved to the center – where students are going to be everyday, getting a snack, having lunch, or getting mail," Foss says. "It's centralized to demonstrate that it's a core part of the DePauw experience.
"So, Union now, really does mean union. It is the essence of the liberal arts experience. It's also the union of curricular and co-curricular or experiential education toward making students complete persons – who are really ready and prepared to go into the world and engage with it."

The counter in the Opportunities Lounge will be staffed from 9 a.m. - 6 p.m., Monday through Thursday, and 9 a.m. - 4 p.m. on Friday. There is also a large screen in the lounge that lists campus events and opportunities, as well as program application deadlines.
Back