Glenn Davis '79 to Chair Gallop, Johnson & Neuman's Litigation Department
September 9, 2010
September 9, 2010, Greencastle, Ind. — Glenn E. Davis, an attorney at Gallop, Johnson & Neuman L.C. and 1979 graduate of DePauw University, has been named chair of the law firm's litigation department. Davis' practice focuses on antitrust issues, securities and corporate litigation, corporate compliance and white-collar criminal defense.
In announcing the move, the firm's managing partner, Thomas J. Campbell, stated, "Glenn Davis is highly respected in the legal profession in St. Louis and nationally for his expertise as a litigator and knowledge of antitrust, securities and business litigation issues. He has resolved complex legal issues for many Fortune 100 companies. Glenn's previous experience in both firm and department management makes him an excellent choice."
The litigation Department at Gallop, Johnson & Neuman is a national practice that also handles international matters for business clients of the firm. Gallop trial attorneys represent businesses and individuals in federal and state courts at trial and appellate levels across the U.S. The practice has extensive
experience with alternative dispute resolution, such as arbitration or mediation, and helps clients obtain sensible, cost-effective solutions to business, financial, commercial and governmental disputes.
"I am humbled to serve as chair of the litigation department at Gallop, and appreciate the management committee's confidence in me," says Davis. "As we move forward and concentrate on high-stakes litigation matters, our trial lawyers have the skills, sophistication, experience and resourcefulness to handle complicated litigation matters for large corporations, and to address complex and routine matters for small and mid-sized businesses, and for individuals. I look forward to addressing the exciting opportunities ahead for our strong litigation platform and for our clients."
Since 2003, Davis has been listed among The Best Lawyers in America for antitrust law, commercial litigation and franchise law. He has been recognized as a Missouri "SuperLawyer" annually since 2005. He is admitted to practice before Missouri and Illinois state courts; the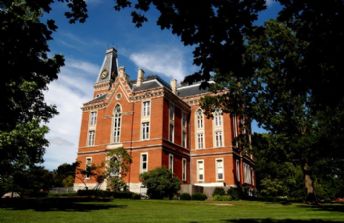 U.S. District Courts for the Eastern and Western Districts of Missouri; the Southern and Central Districts of Illinois; the District of Columbia; and the U.S. District Courts of Appeal for the Seventh, Eighth and D.C. Circuits; and the Supreme Court of the United States.
After graduating from DePauw, Davis earned his J.D. degree from Washington University School of Law. His civic and charitable activities include membership on DePauw's Board of Visitors.
Read more by clicking here.
Back