Professor Hilary Eppley
September 9, 2010
This summer, students in Associate Professor of Chemistry and Biochemistry Hilary J. Eppley's lab were stunned by their result. You never really expect to open a container and find green ooze, and when you do, it's probably going straight to the trash. For a group of inorganic chemists, however, this "ionogel," (below) was scientific serendipity.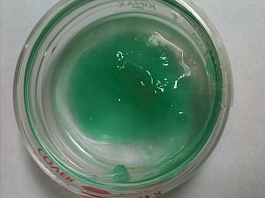 "With the type of reaction we were doing, we were expecting to get a liquid with a solid at the bottom," Eppley recalls. "One of the students who did this particular reaction said, 'There's no liquid anymore! It's all gone!' It was just gel. We started to think about what it could be, and if we could do anything with it. That was very exciting. Research is all about not knowing what comes next."
Moments of shared discovery such as this not only give Eppley's students a taste of real research, but also remind her what it is to be a student. She, too, attended a small liberal arts college and had one-on-one research opportunities with professors -- experiences that led her to DePauw.
"One of the things that's really attractive about a job at a liberal arts college is I can do a lot of different things," Eppley says. "I can do research, teach the fundamentals, reach out in my professional field and I can interact with the all the speakers we bring here."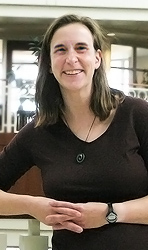 During 11 years as a DePauw professor, Eppley has collaborated on research projects with dozens of students. Many have presented at conferences or gone on to graduate or medical school, buoyed by their experience in her lab. Since 2008, Eppley has served as director of the Science Research Fellows Program (SRF), DePauw's honor program in the sciences. The position gives Eppley a bird's-eye view of the research experience at DePauw, which she says goes beyond what is commonly offered to undergraduates.
"Some students come back from internships at big research universities and tell me they were not given as much responsibility as they had in our labs," she says. "Our students are not just cleaning lab glassware. We want to teach problem-solving skills that will aid students through the rest of their lives, regardless of what career they choose after DePauw."
Eppley's knack for teaching is also benefiting college students far from DePauw. In 2006 she helped form the Interactive Online Network of Inorganic Chemists (IONiC), a group of professors dedicated to the advancement of teaching methods in the field of inorganic chemistry. Because inorganic chemistry covers the entire periodic table of the elements, and individual inorganic chemistry professors specialize in a particular sub-discipline, it's difficult to become an expert in the entire field. Professors who want to incorporate elements from other sub-disciplines into their courses are often discouraged by prospect of having to learn entirely new material themselves.
To help remove this hurdle, IONiC's created the Virtual Inorganic Pedagogical Electronic Resource, or VIPEr, an online community where inorganic chemistry educators can ask questions or share teaching advice with colleagues from around the world. With the help of materials their professors can find on VIPEr, students can see how the latest advances in inorganic chemistry can apply to fields as diverse as medicine, solar energy and the synthesis of new organic pharmaceutical compounds.
Back