Mid-Autumn Festival 2010
September 21, 2010
In China, Zhongqui Jie, or Mid-Autumn Festival, is the celebration of the moon, harvest and family. Based on the lunar calendar, the date falls on the 15th day of the eighth lunar month – when the moon is the roundest, fullest and brightest.

Jinyu Liu, associate professor of classical studies, says that the term mid-autumn in Chinese goes back almost 3,000 years. "However, the festival was probably not canonized until the Tang dynasty in A.D. 618-907," Liu says.

"The festival's origin is associated with the legend of a beautiful woman named Chang'e, and her husband, a hero named Hou Yi," Liu says. "There were different versions of the story. In some of them, Chang'e's image was positive, but in others, it was not. In all of the stories, however, she drank a potion, which enabled her to leave the earth for the moon, where she would live a lonely life ever after. It's unclear when the myths became closely associated with the festival."


Sherry J. Mou, associate professor of modern languages (Chinese) and Asian studies, introduced the Mid-Autumn Festival to the DePauw community in 2002. "It's one of the three most important celebrations in China," Mou says. The others include the Chinese New Year and Dragon Boat Festival.

"The Mid-Autumn Festival to the Chinese is much like that of Thanksgiving to Americans. It's a time to be with family and friends and celebrate the harvest, and in China – the moon," Mou says.

"Even the round shape of the moon symbolizes family reunion. So, for those who cannot be there, the moon helps shorten the distance between them," Mou says.

Mooncakes are a Chinese pastry traditionally eaten during the festival. There is often a variety of fillings, including lotus seed paste and red bean paste. They're considered a delicacy because they are difficult to make and few people make them at home. "Chinese do not bake because most people don't have ovens – which is another reason why mooncakes are such a great treat," Mou says. "Once it's off-season, you can't buy them in bakeries."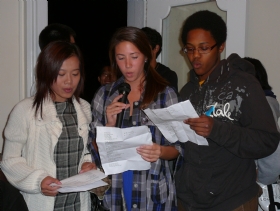 "During the festival, families drink tea, eat cakes and pummelo, a special fruit. Everyone looks at the moon and comments on it. In ancient times, literary people would drink to the moon, and write and recite poetry about it," Mou says.

Qianwen Ni '13 is from Shanghai and is looking forward to the celebration on Friday. "To all Chinese, Mid-Autumn is like a family reunion day. Even people who study or work in different cities try their best to get back home on this day," Ni says. "Of course, it's a bit sad that I cannot celebrate with my family, but here all Chinese students at DePauw will celebrate in our own way.

"This is also a good chance for someone who would like to know more about this festival to join our celebration at the McKim Observatory. Students will read ancient poems and sing songs about the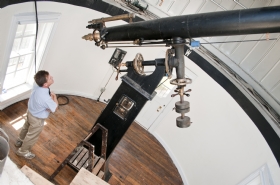 moon," Ni says.

The Mid-Autumn Festival is Friday, Sept. 24, at the McKim Observatory. It's free and open to the public. The observatory will be open from 8-10:30 p.m., and the telescope from 9-10:30 p.m. The celebration includes having an opportunity to look through the Clark refractor telescope (at right), share moon poems and songs, eat moon cakes and drink tea.

The festival is hosted by Asian Studies, ASIA Club, DePauw China Connection, and the Physics and Astronomy Department.
To learn more about the McKim Observatory, click here.
Back