James Larson '05 to Participate in NBC's 'Education Nation'
September 24, 2010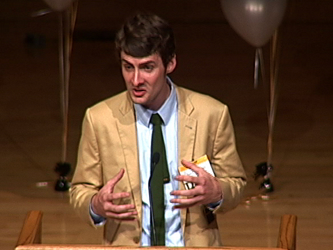 September 24, 2010, Greencastle, Ind. — "We all know that one of the chief indicators of student success is an active and engaged teacher," says James Larson, a teacher at the Charles A. Tindley Accelerated School in Indianapolis. "Next week I will be taking what I've learned at Tindley to New York City, where I'll be participating in a first-of-its-kind event sponsored by NBC News called 'Education Nation.' NBC has committed to bringing policymakers, business leaders, elected officials, school administrators, parents, and teachers together to discuss how best to improve our education system."
Larson adds, "While in New York, I'll also take part in Teacher Town Hall, a teachers-only discussion moderated by NBC's Brian Williams and broadcast on MSNBC. I'll also be teaching a lesson at NBC's interactive 'Learning Plaza' at Rockefeller Plaza."
In a posting at NBC's Web site, he notes, "I was drawn to Tindley after learning about it from the school's founder and academic dean Siri Loescher, and its principal and CEO Marcus Robinson, both of whom, like me, are DePauw University alums. Siri and Marcus make sure Tindley students -- and, importantly, teachers, too -- get the resources they need to succeed. For many of us teachers, that doesn't mean added technology or reduced class sizes, but attention and collaboration. The first thing Siri and Marcus told me in my job interview is that Tindley teachers are held accountable -- not only by parents and students, but also by the administrators themselves. You would think that would be typical of all schools, but unfortunately it's not. Too many teachers are simply allowed to close their doors when the bell rings. Too many administrators close their doors, too."
Read more by clicking here.
Larson, who was "Teacher of the Year" at Tindley last year, was one of the speakers at DePauw's Alumni Reunion Celebration in June.
You'll find more information on the Tindley School here and here.
Back