Teaching Outdoors
September 29, 2010
The DePauw Nature Park is filled with natural treasures, but it's hard to know where to look for them if you don't know what you're looking for.
"Most people don't know that the park has an enormous stand of edible plants along the trail, or that you can find three separate species of woodpecker within 50 yards of each other," says Brian P. Allman '11. "If people know where to look, they'll begin to realize just how incredible it is to have a nature park in our back yard."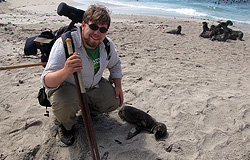 Allman is one of several work-study park interns helping visitors appreciate what's hidden in plain sight. Originally scheduled for the summer, the Oct. 2 Nature Park Campout is the first of many events during the 2010-11 academic year when he and other students are doing just that.
When tornado warnings pushed the campout into the fall, Nature Park Director Doug Cox found an opportunity in the delay. Many of the students slated to work at the park were spread around the country on internships and personal adventures that could be used to educate the park's many visitors.
"I think it's interesting that we have a group of students whose summer experiences connect to their time at the park, and each of them plays a significant role in the campout," Cox says.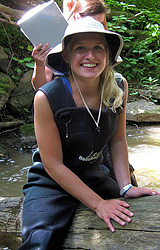 Allman, a biology major, spent the summer at the National Oceanographic and Atmospheric Association (NOAA) on San Miguel Island, off the coast of California, where he worked on sea mammal research and conservation. He and Chloe A. Lawson '12, an environmental geoscience major who conducted water tests and led educational walks for Save the Dunes Conservation Fund in northwest Indiana, are guiding tours of the plants and animals found along the Nature Park's hiking trails.
"Giving youth the skill to identify local trees and wildflowers is a reason events like these are beneficial to the Greencastle community," Lawson says. "We are so lucky to have a natural sanctuary for DePauw and Greencastle to come together through the beauty of biology and geology."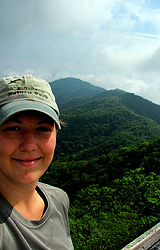 Biology major Hannah N. Ramage '12 had a different kind of summer experience. She spent two months hiking 766 miles on the Appalachian Trail, from Springer Mountain in Georgia, the trail's southern tip, to central Virginia. And apart from the people she met along the way, she hiked most of it alone.
Ramage, who replaced Lawson as president of the DePauw Environmental Club this year, is teaching park visitors how to prepare for long hikes, and basic survival skills for long periods in the outdoors.
"I want to share my story because I think I lot of people have urges to do something similar but have too many reservations holding them back, whether it's the fear of being lonely, being attacked by bears or getting hurt or sick," Ramage says. "It was a life-changing experience for me and I don't want anyone to avoid solitude in the woods because of unwarranted fear."
For questions about the Oct. 2 campout, including camping site reservations and activity schedule, please contact Doug Cox by e-mail at dougcox@depauw.edu or by phone at 765-658-5018. All activities are free and open to the public. More information about the Nature Park can be found on its website and Facebook page.
Back