Karazsia's 3 TDs Lead Tigers to 35-21 SCAC Football Triumph at Millsaps
October 2, 2010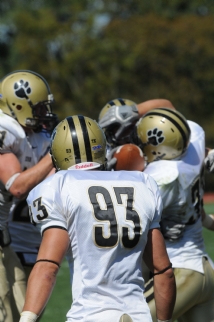 October 2, 2010, Jackson, Miss. — A tough back-and-forth football battle between two undefeated Southern Collegiate Athletic Conference teams ended with the visitors from DePauw University besting Millsaps College, 35-21. A touchdown run by the Tigers' Derrick Karazsia with 8:30 left in the game put the Tigers up for good. Karazsia was the game's offensive star with three touchdowns.
The victory keeps DePauw perfect on the season at 4-0 overall and 3-0 in the SCAC. The Majors fall to 2-3 and 2-1 in conference play. It's the first time since 1985 that the Tigers have opened a season with four consecutive wins.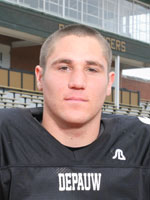 Millsaps took an early 7-0 lead before DePauw answered with TD runs by Karazsia (pictured at right) and Jon Ellis. Millsaps tied the game at 14 in the third quarter, and the two teams traded touchdowns early in the fourth quarter with a scoring reception by All-American Alex Koors followed 18 seconds later by a long Majors pass for paydirt. An interception led to the Tiger score that broke the deadlock and decided the game.
DePauw added an insurance score with 3:17 when Karazsia rumbled in for his third rushing touchdown of the afternoon.
Karazsia, a senior, picked up a total of 94 yards on 28 carries. Quarterback Michael Engle completed 24 of 41 passes for 193 yards, including the TD to Koors, as well as two interceptions. Brayden Dahlstrom was on the receiving end of seven completions. Koors and Nathan Evans had six receptions apiece.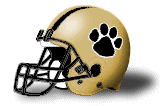 DePauw's offense picked up 24 first downs to 11 for Millsaps. The Tigers scored all five times their offense was in the red zone, compared to 2-of-6 for the Majors.
Next up for DePauw is an Old Gold Day game versus SCAC foe Rhodes, next Saturday at 1 p.m.
For comprehensive coverage of Tiger football, visit the football team's official online page.
Pre-orders are now being accepted for the 2010 Monon Bell DVD. Learn more here.
Back