Brett Schetzsle '99 Seeks State Rep. Seat in Massachusetts
October 5, 2010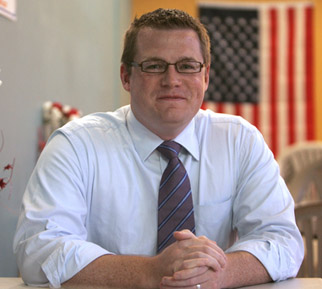 October 5, 2010, Greencastle, Ind. — Brett Schetzsle, a 1999 graduate of DePauw University, "is literally working full time in his quest to become Beverly's first Republican state representative in 20 years," reports the News of Salem, Massachusetts. "He has taken unpaid leave from his job as a marketing executive with the Gillette Co. and has raised nearly as much money as his Democratic opponent, Jerry Parisella. Schetzsle spends so much time in the Republican campaign office that he has set up a portable crib for his 10-month-old twin daughters."
"I'm lucky I've got a very supportive wife. She agreed to allow me to turn my life upside down," Schetzsle tells the newspaper. "At no point in my life did I think I would be running for state representative in Beverly, Massachusetts. I'm glad the way it turned out. It feels very comfortable."
Paul Leighton writes, "Schetzsle recalls a youth filled with sports —
football in the fall, basketball in the winter, baseball in the spring. He was a three-year starter at quarterback for Vincennes Lincoln High School and played three years of college football at DePauw University in Indiana. In his senior year, with an eye toward establishing a career, he gave up football and went to work for the campus radio station. The day after he graduated, he drove to Jamestown, N.Y., to take a job as the radio announcer for the Jamestown Jammers minor league baseball team. He spent the next three years, including one season with a team in Wichita, Texas, announcing games, but the 12-hour bus trips through Louisiana and Arkansas and Oklahoma took their toll."
"For three hours a day (during the games) I wouldn't have traded places with anyone," Schetzsle recalls. "But minor league baseball is a tough grind."
Schetzsle wound up returning to Indiana and serving as a radio announced for Purdue University, where he earned an M.B.A. He worked for Procter & Gamble and Gillette. His run for state representative is his first attempt at public office.
You'll find the complete story at the Salem News online.
Back