Herb Marohn '57 Uses a Piano to Spread Cheer
October 5, 2010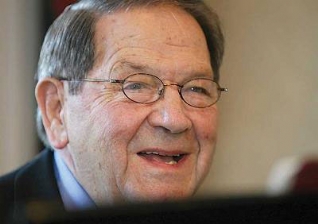 October 5, 2010, Greencastle, Ind. — Herb Marohn "started piano lessons at age 6 with his mother forcing him to practice 20 minutes in the morning and 20 in the afternoon," notes a story in the Doings of Clarendon Hills, Illinois. "While studying for a degree in geology from DePauw University in Greencastle, Ind., he played in a band at virtually every university in Indiana, but then the music stopped for a while. He joined the Army, was sent to Germany and became a Morse code operator because of his sense of rhythm, though he had years ago quit the Boy Scouts precisely because he didn't want to learn Morse code." (photos: Jerry Daliege)
Marohn, a 1957 DePauw graduate, is featured in an article detailing his piano performances at local assisted living and nursing homes where "he regularly and masterfully tickles the ivories once a week, as a volunteer, for residents most of whom are in their 80s and 90s with even a few centenarians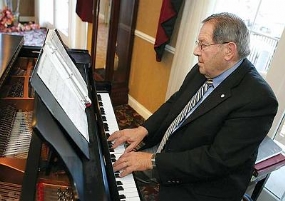 sprinkled in," writes Sara Clarkson. On a baby grand piano, Marohn "plays the jazz and pop standards from the 1930s, 1940s and 1950s ... (and) evokes sometimes vivid and lovely memories for his audience."
The article notes that Marohn "will present a free concert at 7 p.m. Wednesday, Oct. 13 at The Birches, 215 55th St., Clarendon Hills. At that time he will discuss the history of the piano, including its evolution from the harpsichord and the organ to the pianoforte and piano, as well as the evolution of keyboard music."
Read the complete article at the newspaper's Web site.
Back