A Working Relationship
October 7, 2010
For the last few years, exercise equipment giant Life Fitness has offered internships to a growing number of DePauw students, many of whom have been hired after graduation. What's their secret? In a word: family.
Robert "Bob" E. Quast, vice president of brand management at Life Fitness, isn't related to the interns and employees he's hired – not by blood, anyway. The 1985 DePauw graduate maintains a connection to his alma mater by opening doors for a new generation of students. In almost every year since 2004, he has either hosted a DePauw student for a Winter Term internship, hired recent alumni outright, or both.
"Bob has done an excellent job bringing in students and alumni at all levels," says Steven V. Langerud, DePauw's director of professional opportunities.
"From job shadowing to Winter Term internships to full-time positions, he has facilitated and funded many opportunities. He really represents the gold standard of what alumni involvement with students can be."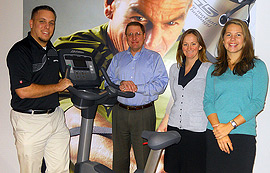 Life Fitness is a leader in fitness industry in the United States and abroad, selling their Life Fitness and Hammer Strength brands in 120 countries. Working with clients from around the globe requires skills that Quast says come with a DePauw education.
"DePauw provides an excellent education for graduating students entering business," says Quast, pictured above (center) with Luis Davila '07, Lee Brant '06 and Brittany Hizer '04 at Life Fitness' Schiller Park, Ill. headquarters. "The liberal arts educational experience, Winter Term and the off-campus study programs provide students with real-life and multicultural experiences."
Giving these students and alumni a chance in the business world is really all he can do, but again and again, his DePauw hires take advantage of the opportunity.
"They have all proven to be strong leaders through their education," Quast says.
Langerud isn't surprised by the success DePauw has had at Life Fitness.
"We know that liberal arts students can think, speak and write," Langerud says. "However, it is those three things combined with their ability to manage projects from start to finish; read, analyze and interpret complex financials from any organization; and their leadership while working in teams that sets them apart. The combination of both skills sets is a future-proof preparation for a job market that changes every day."
Together with the staff at DePauw's Office of Civic, Global and Professional Opportunities, Langerud has developed a series of events to keep up with the hundreds of DePauw students who seek an internship every year. Every Monday, he and Erin A. Mahoney, assistant director for professional opportunities, run a workshop called "How to Design Your Own Internship." Mahoney also hosts weekly online discussions using Skype, a videoconferencing program, to connect alumni with students who are planning for their life after DePauw.
Walk-in appointments are offered in the Opportunities Lounge of the Memorial Student Union Building from 9 a.m. to 6 p.m. every weekday.
"Almost 70 percent of our traffic has been related to internships," Langerud says. "It is a huge issue for students."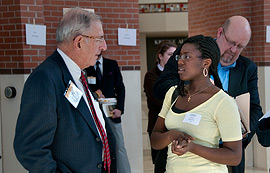 On Saturday, Oct. 9, during Old Gold Weekend, the Office of Alumni Relations and Alumni Association Board of Directors are hosting a luncheon for students to network with alumni. Langerud hopes that each opportunity to connect DePauw's past and present creates a new Bob Quast.
"I simply want alumni to open the door for students," Langerud says. "It means something to be from DePauw. We know students and alumni will rush through that open door with their skills, education and experience leading the way."
Want to stay in touch with DePauw? Keep your profile on the Alumni Gateway up-to-date!
Back