Greeks Strike Gold
October 8, 2010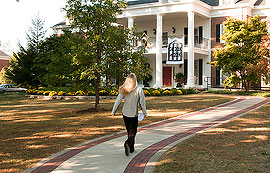 Greek students at DePauw are receiving well-deserved accolades. Their academic performance was recently recognized by Gamma Sigma Alpha, the national Greek academic honor society.

Inclusion on Gamma Sigma Alpha's honor roll places DePauw's fraternities and sororities among the top 5 percent of Greek communities in North America in terms of academic performance. The list consists of fraternity and sorority communities whose grade point average is at or above the overall campus grade point average.

Aliya M. Beavers, coordinator of Greek life and multicultural student services at DePauw, says, "Our Greek community continues to thrive, and we want to continue to accentuate the positive ways in which our students are contributing to DePauw.

"We like to see our Greek chapters receive recognition for their leadership. All the chapters contribute to the University through community service, academic engagement and philanthropic endeavors," Beavers says.

This fall, several of DePauw's fraternities and sororities received awards for excellence and leadership.

The Pi Lambda Chapter of Alpha Kappa Alpha received a long list of awards, including Undergraduate Overall Achievement Award.

Rosalyn A. Martin '11, Alpha Kappa Alpha president, says, "I am very proud that we were able to continue the legacy of our chapter on a national level. I knew that our hard work and involvement within the community would put us in the running for awards, but I was surprised to see how many we received. The diversity of the awards indicates that our efforts are appreciated, and it just encourages us to do more to impact our community.

The Pi Lambda Chapter of Alpha Kappa Alpha is the first Black Letter Greek Organization charter on DePauw's campus. During spring semester, members will celebrate their 20th anniversary.

The Xi Chapter of Sigma Chi is recipient of the J. Dwight Peterson Significant Chapter Award for the second consecutive year. It is the highest honor that the national Sigma Chi Foundation gives to an undergraduate chapter. The award was presented at the Sigma Chi Balfour Leadership Training Workshop at the University of North Carolina at Chapel Hill. Eight DePauw members attended the workshop.


Sigma Chi President David S. Hanger '11 was there to receive the award and says, "We are very happy to receive this type of national recognition from Sigma Chi, but we are still focused and dedicated to bettering ourselves, the chapter and our community.

"In addition to upholding our GPA requirements, academics encompass many different aspects of learning – it's an area of our chapter that fluctuates constantly. From lessons in the classroom to discussions, lectures and off campus study, we challenge each other to get involved in activities that stimulate moral, social and academic growth. We ensure that all of our members understand that we are all at DePauw to engage and learn from our opportunities in education."

DePauw alumnus and Phi Gamma Delta (FIJI) fraternity member Philip G. Heyde '72 received distinguished service honors in the Coulter Cup, which recognizes service to an undergraduate chapter other than as a chapter adviser. "Alumni support is the key to the continuing success of our chapters. The Greek community flourishes with the support of alumni," Beavers says.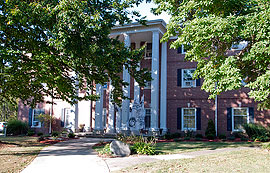 Heyde became involved as an alumnus with the FIJI house eight years ago. "I got a call from an alumnus asking me if I could help with some things, and one thing led to another," Heyde says. "I ended up serving as the house corporation president for the last six years."

Heyde adds, "I am pleased with President Brian W. Casey's emphasis on intellectual life and hope the FIJIs will focus on this as active participants. The chapter's concentration on academics and scholarship is a source of great pride for FIJI alumni."

Greek life has been a part of DePauw's history for 165 years. The University's first fraternity – Beta Theta Pi – was founded in 1845. The Alpha Chapter of Kappa Alpha Theta sorority, the first Greek-letter organization for female students in the United States, was founded 25 years later.

Nationally, the first fraternity was formed at William and Mary College in 1776. Phi Beta Kappa is generally recognized to be the first Greek-letter student society in North America. It set the tone and instituted many of the characteristics that are considered typical for fraternities and sororities.

Visit the Fraternity and Sorority Life website to learn more about Greek life at DePauw.



Back