Prof. Bruce Stinebrickner on Indiana's Daniels, Pence & The Presidency
October 18, 2010
October 18, 2010, Greencastle, Ind. — "New York has nothing on Indiana when it comes to the very early 2012 presidential sweepstakes," begins an Indianapolis Business Journal story which quotes a DePauw University professor. Mary Dieter writes, "The Empire State has its two aspirants -- former Gov. George Pataki and famous rich guy Donald Trump -- but so does the Hoosier state: Gov. Mitch Daniels and U.S. Rep. Mike Pence, both of whom have made it to the national pundits' coveted 'being mentioned' list of Republican candidates for president."
Bruce Stinebrickner, Leonard E. and Mary B. Howell Professor of Political Science at DePauw, tells the publication, "I

myself certainly do not believe [Daniels] when he suggests that he is leaning toward not running, unless his reading is that he really doesn't have a chance to win. I think the chances that he will run are very strong, perhaps 80 [percent] to 90 percent."
The article notes that Governor Daniels focuses on fiscal issues, while Congressman Pence "is a fiscal conservative, but he is much more identified with social issues," according to Larry Sabato, director of the University of Virginia Center for Politics. "So they do represent two vital wings of the GOP."
Dr. Stinebrickner adds, "What distinguishes Mitch Daniels and Mike Pence from their counterparts on the 'wings' of the party is how calm and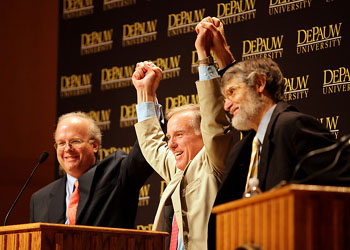 collected and credible they both usually are."
Dieter writes, "While Stinebrickner said 'it's not inconceivable' that 'the final choice [for the Republican nominee] would be between the two Hoosiers,' the other experts interviewed for this story thought that unlikely. Indeed, although noting that 'both are credible enough so that they will be considered seriously if they run,' Sabato said "the suspicion is that both will choose not to pull the trigger in the end and will end up running for something else or not running at all.'"
You'll find the complete piece at IBJ's website.
Bruce Stinebrickner moderated the September 11, 2009 DePauw debate between Karl Rove and Howard Dean, which was presented by the Timothy and Sharon Ubben Lecture Series (photo above shows Rove, Dean and Stinebrickner). Learn more about the professor in this previous story.
Back